Here we are, making an effort to launch Project Mars into the public eye!
We have a ton of concept art to show off, we want people to get a feel for the universe we are building! The game we are building will be a more traditional video game, we are not trying to "reinvent all video gaming" like so many indie developers do. We just want to make a good experience!
So first up I would like to show off a few pieces of concept work by Idera13, Orayne station hovering above mars. It is likely going to be the first thing seen in the game by the player, and will almost always be visible in the skies of mars.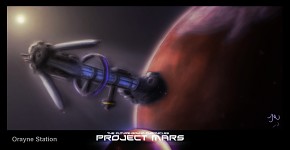 Another important location is the city of cree! It is one of the largest cities in the northern hemisphere of mars, and one of the most diverse! Much of the game will take place within the cities walls, but it stands to reason much more will take place outside of them!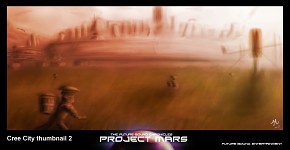 That is all I want to show off for now, I dont want to give too much away with this project. there are lots of secrets to the world of the future-bound universe, and soon we might be unveiling something . . . unexpected!