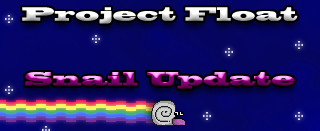 Update (Project Float - Trailer):
Well, before i start with the serious stuff. Here's a little video to help enlighten the mood:
Ok, well with me being a teenager and all this time of year can be really hectic. I need to adjust to a new schedule, more work, less freetime. It's a very stressfull time for me. Which, is the reason for the bad news I'm about to tell you. All of us working on Project Float are taking a break from the game, so we can get our lives on track. We need to organize our time well before we can start doing stuff like this again. Don't worry the break won't be too long. Maybe a week, at most a few weeks. The main reason I'm making a news page is, because there wont be another update for a week or two and I dont want you to think we've given up on the project. Actually... On the contrary, we are even more excited on working on it and we also submitted Project Float to the SAGExpo.
The SAGExpo is basically an annual event where sonic (and other) game creators come together and display their demos and games to the people all on one website. Well, anyways every now and then I, tristanjmnz, will be continuing to work on our other game Project Create. I will soon put an update/news page on that and if you are interested in that game, it's not dead either. Project Create will have a lot of new features that will be announced in the news page later. If you have any questions regarding Project Float or Project Create don't be afraid to ask. I will try to answer all of them, just please... don't mention any minecraft or terraria like questions. What I mean by that, no remarks like "What's with all these minecraft themed games?" or "Terraria texture pack?". This game is NOT a minecraft related game. It's a puzzle platformer about a little boy and robotic spheres. How is that anything like minecraft? Anyways, I will answer all your questions, I may not have time to work on programming a game, but I'd be more then happy to help you out with your curious mind.
And don't forget the Chicken Giveaway is still continuing. I'm quite glad with how many guys have subbed already, I'm helping out this channel and It's really motivating to see how many people are interested in the game to be able to participate in a giveaway for it. The details, once again down below:
---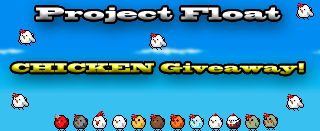 How To Be Elligible (And Prizes): Prizes:
1st Prize Winner (1 Winner) - Free Project Float on release, Free Betas (All) , and costume custom made by me for use in Project Float's Multiplayer.
2nd Prize Winners (5 Winners) - Multiplayer Beta (When Ready) and a costume custom made for them for use in Project Float's Multiplayer.
3rd Prize Winners (10 Winners) - Multiplayer Beta and a special costume. (Same costume given to all 3rd prize winners)
To be a part of the contest, you must subscribe to the EpicChickenProject's youtube channel and comment "Chicken Giveaway sent me here!" or "Project Float sent me here!". You can also be elligible by doing the same on this moddb page (by tracking the game and commenting what was said above). In order for prizes to be given out, there must be atleast 50 subscribers and 30 comments as stated above.
---
Follow Project Float:






Thanks to Tastyrice of French Rice Games for letting me use some of his follow icons.