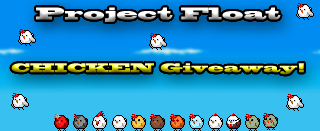 1.2 Thousand Chickens News:
Ok, first off I'd like to announce the winners of the Chicken Giveaway. Since, not many people participated I could only choose 1 winner per category. Here are the winners (By Youtube Names);

1st Prize:
Grimylx

2nd Prize:
VideoGameGet
3rd Prize:
machastro
Prizes will be given on the release date of either the full game or the multiplayer beta depending on the prize. Prizes will be given via Desura, so those who won make sure to download it. It will be necessary to receive your prizes. (note that Project Float is not YET on desura)
For the third prize winner, this is the costume you are receiving: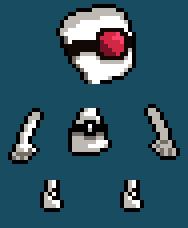 8BitFunding:
Creating games cost a lot of money if you want the top of the line gameplay and experience for your customers. This is why we are currently having a 8bitfunding account and we are in need of funds. You can find our page here at our 8bitfunding Page. You will receive perks for contributing including free copies of any future release and a character drawn of you put in the hub worlds. This site can also be used as a method of pre-purchasing. Just simply fund either 5 or 15 dollars and claim either the standard or deluxe edition perk. You will now receive the game once the game is released. (Desura is not required to receive the game, you have the option to receive it via desura or just standalone)
Your contributions will help us developers here at BlueSky Games to be able to purchase certain things like the iOS exporter (for Project Float: iPhone), webhosts (so we can hold massive amounts of usernames and dlc information, the more funded the more free costumes), and an XNA and Android exporter for either Xbox Live Indie version or Android port of Project Float. It also helps us purchase the developer accounts to be able to sell the games on those other platforms.
1.2 Information:
We have recently released a Pre 1.2 alpha demo. This demo was released mainly for the SagExpo. It adds a lot of new visual effects and fixes some of the bugs that caused the demo to be unbeatable. The most important feature of the game is the ability to double jump after being sprung up by a spring. This is very useful and at times required to beat the level. Other things we hope to include in the final release of the 1.2 Alpha is to fix the deaths, customize window size, better level select, closet/object inventory, better store and barbershop. Track this game in order to be able to find out any new updates on what will be in 1.2 and when it will be released.
---