Hey Everyone!
It's been quite a long time since you've heard from us over at Molotov. We've been having some ups and downs and some of the latter have caused some set backs. We're working hard to try and catch up and recover from these struggles and we want you to know that Patriots is still very much in development.
We've took some hits in the art department with some of our guys moving up into the industry. We truly thank them for their dedication and we wish them well! Along with that the animation department took a hit but has recovered. The good news now! Our coding team has grown from three to five and we may have a sixth in the coming weeks as well. This area has never been strong like this before and they are working extremely hard to make sure everything runs smoothly and perfectly.
Moving on, we wanted to address the stir involving Max's name. We have receive both positive and negative feedback regarding the name we presented alongside Max's name which was Swagger. Swagger was, is and will be his nickname and not his real last name. Max's real name is Max Slade. The reasoning behind his nickname will be revealed in the game so we won't reveal that information until then. We will however tell you that Swagger pays homage to Bob Lee Swagger from the movie Shooter and the novel Point of Impact written by Stephen Hunter.
How about some more news on Max? We have revealed his in-game model as well as his wallpaper (pictured below) which is now available to download! (link also below) We hope you like his look and enjoy the wallpaper!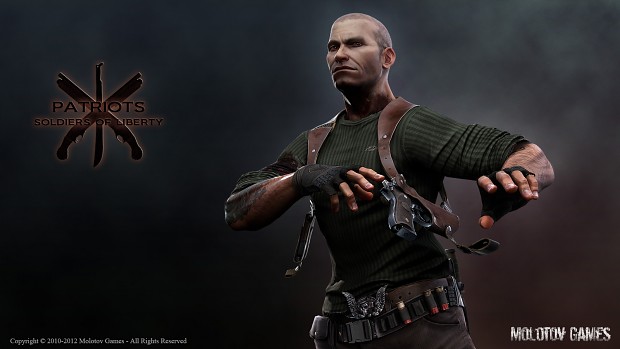 Molotov is still looking for talent to help create Patriots. If you've got the development chops and are interested in creating a AAA project, pop us an email at: freedomfighter@getrenewal.net along with your portfolio and resume. We're still looking for Environment Artists, Character Artists, Animators and Programmers.
As always, make sure to "Like" us on Facebook.com to receive faster up-to-date news about what we're doing and what might be coming out next! We're also on Twitter.com
as well! Again, thank you guys for the support you have given us. We truly appreciate everyone single of you guys along with the support and feedback you've given. Cheers!
-Molotov Team