First, thank you so much to everyone who has donated on our Kickstarter page. You make our little developer hearts go pitter-pat! To those who have yet to donate: we've added a NEW REWARD at $55 in case you aren't interested in being a beta-tester and would like a T-Shirt instead.
Blake's ready to hit us with some great new tracks he's produced along with a lil' insight into his musical mind. Enjoy!
Lust:
Insight From Blake:
For Lust I was thinking 70's "porno" style, funky and a bit trashy. Somehow I managed to get my girlfriend to do the vocals, and I have to say, she outdid any expectations I had for this. In the end, I think it gives the lustful feeling and most of all leaves the listener... "Wanting."
Greed:
Insight From Blake:
For Greed, I thought of the outlandish pop music that is made purely for profit. Somehow I realized I was lacking Hip-hop sounds as well for this game and since hip-hop/rap is so often tied in with how much money the artist is making, I couldn't think of a better genre to attach to the Sin. With the addition of some reverb drenched coins and the sound of a register opening, the feeling of the Midas Touch was conveyed.
That's where our sound specialist has been since MAGFest. Speaking of MAGFest, we've been crunching the massive back-log of feedback we got there into level design. Here are some pics of the areas that have been remodeled followed by some development insight about them from Dan:
Insight from Dan:
MAGFest was a real test of our game design. We had numerous people try the game without any prior experience and see how they did. Hell1, the first level in the game, served as a tutorial. We realized pretty quickly that our tutorial wasn't serving its function. Players weren't getting enough time with each Sin to really grasp the concept. Also, the tutorial wasn't very much fun, with most players giving up without having finished it. There was nothing to keep the players engaged through the onslaught of puzzles. The players that did make it through got to experience Hell2, which got a hugely positive response. It was clear we had to change Hell1.

First, we expanded all the sin areas so players could get a better feel for each character. We gave Wrath a lot more to destroy before he discovers Pride, then we created a whole new Pride section where players could get used to executing those tricky Pride jumps. Second, we tackled the fun problem by adding more enemies to the level. Players would get an introduction to combat before the big battle at the end and it would break up the string of puzzles. Last, we refined many of the puzzles to make them less tedious. Where we could, we added an incremental puzzle so players wouldn't be immediately faced with something too difficult.

Vince was the main designer on Hell1, and he now states it's his favorite level in the game, so we've got a solid improvement here! We're looking forward to getting the latest Hell1 in front of players and collecting more feedback.
Finally, our programmers have dallied in a little art in the creation of some fancy new clouds. We hope these give you a nice flashback to your Super Mario platforming days: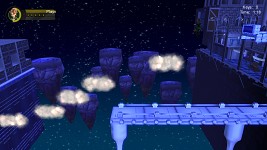 To everyone in Montreal and the surrounding area: our dev team will be presenting Party of Sin at IGDA-Montreal next Tuesday (Jan. 31st) at 7:30pm (19:30) EST. Admittance is $5 for non-IGDA members, free for members. Other games to be presented include Fez and Mass Effect 3, both Montreal born-and-raised.
See you there!
The Party of Sins