I started in the office bright and early today.
Initial "OMG" moment
After posting my blog post last week, the day was a roller coaster ride. The sudden realization that I no longer had a boss or anyone to report to was refreshing but scary at the same time. I am now my own boss, which unfortunately means I can goof off a whole lot, but that's not so great for business. It's a lot like playing golf. Golf isn't really a competitive sport: you're mostly playing against the course, and it's a mind game about self-control, precision and knowing your strengths and weaknesses. I suck at golf (though I haven't tried it in a while), hopefully it won't be the same with entrepreneurship.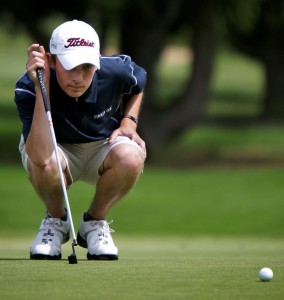 The biggest issue that came up was the schedule. I am used to a regular nine-to-five schedule, and now I was staring into the unknown. I like nine-to-five. I'm not one of those programmers that arrives to work at noon and leaves at 9 pm. Party of Sin has never been a nine-to-five job though; all our work gets done evenings and weekends. This presents an interesting problem for me. I know I can be the most productive on a regular daytime schedule, but no one will be around (good for concentration, bad for managing and solving problems).
Keep Calm and Carry On
Luckily for me I have a solid support network of loved ones and people who want to see me succeed. In the grand scheme of things, this initial fear is really nothing, hell we haven't even started talking about money yet, but my girlfriend, family, friends, and even a few strangers from the internet came to the rescue.
I was amazed that quite a few people commented on twitter and by email to let me know they've always wanted to do exactly what I'm doing: quitting their job and starting a business. Go for it guys! I've been wanting to do this for a long time and I kept putting it off. It's best to take these risks when you're young.
So after the initial freak-out, I took a breather, relaxed a little bit and decided to keep my work schedule flexible. It's going to be important that I be available in the evenings some days, but I also want to keep morning hours for myself.
Work Environment
So this weekend I set up my new office. I am fortunate enough to have a father who owns his own business (as well as the building he works in), so finding office space was as simple as asking nicely. It's also great that my father understands what I want to achieve and has been there before. I know some people with parent's who aren't so supportive, and it must be a lot harder to get started. Anyway have a look at the office:
I can't stress enough how crucial your work environment is. I used to work from home quite a bit, but it's so easy to fall into traps. Your breaks get longer, you wake up later, you procrastinate and do other things instead of the work you should be doing. When you have an office, there is a clear break your day when you move to and from the office, and that break helps to keep you focused and switch you to work mode. Not to mention it forces me to actually get dressed and not work in my pijamas!
Farewell Skyrim
I used some of the new free time I have to start playing Skyrim. It's been sitting on my shelf for months, and with all the crunch time on Party of Sin plus the day job, I haven't even been able to look at it. So far I've been thoroughly impressed. I don't usually like RPGs but Skyrim is really hitting the spot for me (more on this later!).
The unfortunate casualty of the office move was my Skyrim game. I only have one desktop, and in order to work effectively I need the power that a desktop gives me. So the desktop had to come to the office. I bought this particular desktop to play games though, so it was heartbreaking to transform it into an office computer. I'll still sneak a few hours of Skyrim late in the evenings, but when I'm at the office, I don't feel like gaming, just working, and that's a beautiful thing.
Speaking of which if you are looking to buy a desktop I can't recommend techreport.com enough. They do frequent buying guides and I pretty much stick to their builds.
Dan