Our development studio is like a boiling kettle right now: everybody is so excited as the things are going towards the release at fast pace.
Changes from 0.80:
Added Steam support (lobby, matchmaking, game sessions, achievements). The game will be available on Steam very soon, after the official publishing.
Added 3 new atmospheric music tracks.
Fixed "Follow the fleet" feature (activated by pressing "F" after issuing an order).
Increased targeting module speed.
Fixed a bug with mirage objects inside the fog of war.
Improved fragments and shatters left when units/towers are destroyed.
Fixed unit flickering on the minimap.
What's next?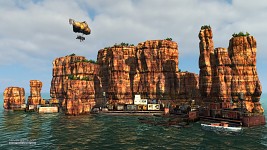 Our game designers are back from vacations so there will be a lot of new maps soon!
New environment: flooded canyons of the wild west.
Single player campaign is full speed ahead (but it will be kept locked in beta builds until the release).
We plan to release OST in high quality for free for all pre-order users.
There will be a play-test in our studio this Saturday, we are eager to see new gamers playing Oil Rush!
Stay tuned, more to come!