The hardest part right now for our developers is to stop playing Oil Rush and in the end of ends go back to development. Need to write this mantra on the wall with burning letters: LESS GAMING, CONTINUE THE POLISHING!
Here is a quick LAN game between our programmer and the QA engineer. Watch how to steamroll your opponent in less than 10 minutes:
"Also, this game is addictive as hell. As soon as I finish a match I just have to start another, even when playing alone." - Gamers on forums.
Each day Oil Rush becomes even more spectacular and enjoyable as our artists add more and more finished environments: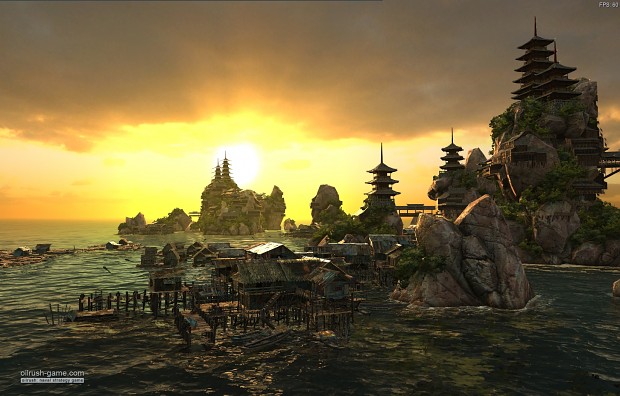 Maps:
* Added "Dragon's heart" map (3 players)
* Added "Pacific" map (3 players)
* Added "Cross" map (4 players)
* Added "Turnaround" map (4 players)
* Improved environment in tutorials
* Updated "Cross" map environment
* Updated "Sabotage" map environment
Gameplay:
* More cinematic "Follow the fleet" mode
* Added a signal marker on the minimap for multi-player teammates ("i" minimap button)
* Lesser healing effect from the repair barge
* Smarter usage of the Nuke by AI
Code:
* Implemented sound ducking system
* Fixed multiple crashes
* Fixed Linux packaging problems
Visuals:
* Improved technology tree usability
* Fixed the wind generators animation
* Animated elements in the main menu
* Changed splash screens
* Changed the summoning animation for a convertiplane and a submarine
* Optimized industrial environment
Sound:
* Added new unit explosion sounds
* Added the sound for Unigine logo screen
* Changed victory/defeat sounds
GUI:
* More verbose info panel for towers, units, platforms and skills
* Changed a button for cancelling tower construction/upgrade
* Added info on applied skills onto the info panel
* Added new icons for a minimap: oil storage, raiders base
* Added tooltips for all panels (unit count, oil, 25/50/100% selection)
* Fewer notifications on minor events
Controls:
* Added a lot of hotkeys (to activate technology tree, jump to the weakest platform, set 25/50/100% fleet size, choose any of the active skills)
* Snapping of the skill cursor to platforms on the minimap
* Platform construction mode can be enabled by double-clicking on any tower
PS: Stay tuned, there is more to come. The official release date will be announced in a week as well.