Beamdog has been substantially updating the Neverwinter Nights Toolset, and want their playerbase to test the newest build which adds tons of fixes, optimizations, & new features. They have uploaded an out-of-band update for the Toolset so that content creators could test it without having to wait for a patch (which will take a while with the work on the renderer and 64-bit integration).
You can grab the new Neverwinter Nights: Enhanced Edition Toolset build at this URL Nwn.beamdog.net or on ModDB, test it out, and share your feedback on Beamdog forums: Forums.beamdog.com
Installation: make a backup of the original Toolset located in bin/win32/nwtoolset.exe and then copy nwtoolset.exe from this package into that folder.
Changelog
Neverwinter Nights Toolset 1.5.0.0 (8186)

This build is based on 1.78 (8186), and is compatible with the latest stable release of the game.
New Features
Added support for visual transforms

The new options are available in Adjust Location dialog
You can use Ctrl+Mousewheel to quickly scale objects
Visual transforms currently only work on creatures, items, doors and non-static placeables

Added support for opening multiple areas in tabs

Tabs are disabled by default. To enable them, go to Toolset settings -> Area editor -> Open areas in tabs, then restart the Toolset.
To close a tab, right-click on the tab and choose 'Close' in the context menu.

Inventory editor improvements - added key bindings:

Move selection with arrow keys
Set Infinite flag with 'I' key
Delete items with 'Delete' key
After deleting, it now switches to the next item in the list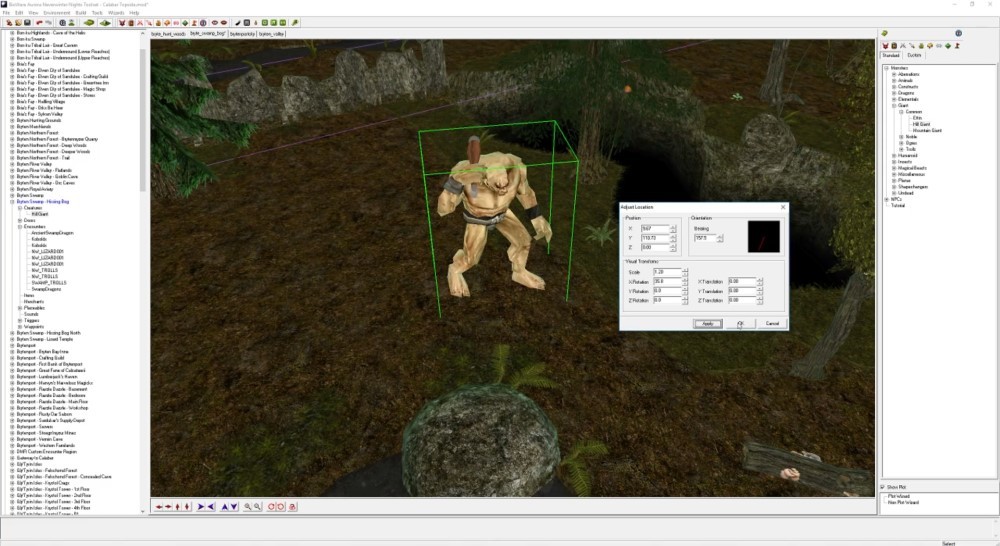 Fixes
A memory leak that was observed when switching between areas has finally been fixed
Test Module now correctly passes -userdirectory to the game when launching it
Optimizations
Significantly optimized Build Module and Update Instances, as well as some minor operations like expanding an area that is not currently open
Changes
The Toolset is now built using a newer version of the C++ compiler. We have fixed most of the bugs caused by this change, but there might be a few regressions. If you see any issues that did not exist in the Toolset shipped with 1.78, please help us fix them by filing a ticket at Support.baldursgate.com
KNOWN ISSUES
Access Violation when clicking on any object in an area after closing a newly opened area tab: Support.baldursgate.com
Z translations not saving: Support.baldursgate.com
sqrt domain error when calculating tangents on fancymapped content: Support.baldursgate.com
Up/down arrows in Adjust Location dialog need to be clicked twice / process the previous click: Support.baldursgate.com
Icons grey out at some point when using area tabs: Support.baldursgate.com
Fog doesn't render in tabs after the first one: Support.baldursgate.com
Copy&paste stops working at some point when using area tabs: Support.baldursgate.com
Inconsistent tab order in Adjust Location dialog
Transforms should reset when setting static flag on a placeable
Ambient sound/music toggles appear to not work properly with tabbed areas
Input bugs when trying to modify creature abilities and spells: numeric values are converted into invalid Unicode
FEATURE REQUESTS
Retain transforms on copy&paste
Store transforms on object blueprints, edit transforms from object properties dialogs
The original news update is here and the original thread here.