Here's a preview of our current HUD (Heads Up Display).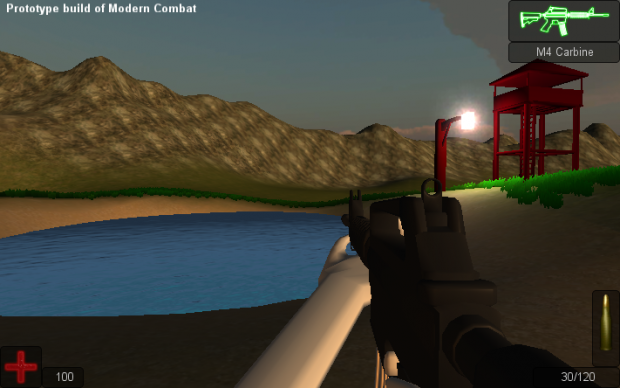 All displays shown are fully functional. The missing displays soon to be added are armor, game mode specific indicators/counters, and the score board. We currently do not plan for any radar or minimap displays.
Here's a preview of the "Weapon Screen" which will be accessible from the Main menu. This screen allows layers to view every weapon in the game and its stats.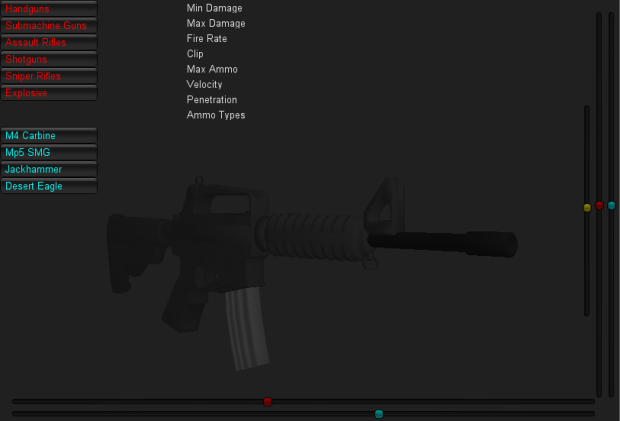 The upcoming alpha release (no set date yet) will feature a small portion of the weapons to be in the final version and some of the classes.
I plan to have two choices for every weapon type (Assault rifle, SMG, etc.)
Confirmed weapons to be in alpha
M4 Carbine (Assault Rifle)
FAMAS G2 (Assault Rifle)
SCAR H (Battle Rifle)
M14 (Battle Rifle)
Mp5 (Submachine Gun)
MAC 10 (Submachine Gun)
M249 SAW (Machine Gun)
HK-21 (Machine Gun)
R700 (Sniper Rifle)
PSG-1 (Sniper Rifle) R870 (Shotgun)
Armsel Striker (Shotgun)
USP (Pistol)
Desert Eagle (Pistol)
Mk3 Knife (Melee)
Butterfly Knife (Melee)
Confirmed classes to be in alpha
Rifleman
(Assault Rifle) General-Purpose
Designated Marksman
(Battle Rifle) Mid-Range
Sniper
(Sniper Rifle) Long Range Specialist
Support
(Machine Gun) Cover fire/Defense
Shock Trooper
(Shotgun) Flanking/Offense
Commando
(Butterfly Knife) Assassination/Recon
Special Ops
(Submachine Gun) Sabotage/CQC