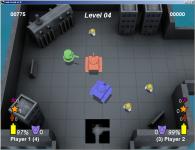 The Windows XP+ and MacOSX 10.5+ 32/64-Bit builds of the Tank Crush game dated 27th January 2012 are now available at the official site for free download and play.
UPDATE: A small enhancement was issued today bringing the build up to version 30.01.2012. This update fixed some bugs with the 2nd player handling in the upgrade shop and some of the music was swapped out for new choices.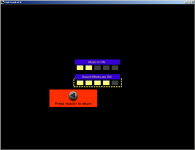 New features added for Test Build 27.01.2012 were:
- Added sound effects.
- Added music.
- Prepared boss enemies (phase 1).
- Added title menu selection for music and sound effects settings screen.
- Added music and sound effects settings.
- Updated title screen graphics and buttons (Phase 1).
- Misc. bugfixes.
There was a strong focus on implementing the first batch of sound effects and music. While the full version of the music is currently still being done and expected for the next build, the general distribution of music in the various screens and the specific sounds each entity in the game makes is being designed and tested.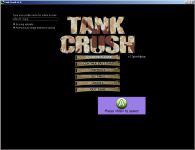 On the business side of game making, some effort is going into securing outsourced graphics assets to flow into the complete upgrade of the graphics. This also means final decisions on the graphical style of the 3D world need to be set and that will be a big change to the look-and-feel of the game.
The style for the user interface and 2D elements is quite decided at this time. So, much of the effort here will go into implementing the various buttons and menu screens, and also preparing the HUD data with their proper iconography.
The build was also tested on various configurations of Mac OSX and Windows computers to get a picture of the performance and identify any OS-specific issues or effects. However, we can confirm that Unity 3D is treating us very well and development has been fast enough and mainly smooth sailing.