New features added for the test build were:
Added Boss: Spiral Turrets in-game, multiple levels (phase 3, complete).
Level rework to place assets, resources.
Added new user interface elements (partial).- Misc. Bugfixes.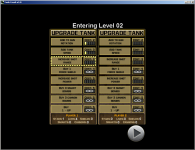 The focus on this build here was on the distribution of the level resources (stars, batteries etc.) and in the partial implementation of the user interface to be used in the free demo. You will find a mix of old and new user interface controls in the build, but it is fully functional. You can now upgrade your player tank fully before reaching the last level 10 of the game but you will have a big challenge with the full enemy distribution throughout the game.
Please post your comments here and specifically write me if you manage to complete the demo and how appropriate you found the difficulty level to be. Being an arcade game, I believe the challenge should reflect how this game would have been played in the 80s arcades, but i'm looking for feedback to fine-tune everything.
A test build was made for the older Unity v2.6 to see if support of the game can be extended to Mac PowerPC platforms, however this resulted in too many visual artifacts so this is deemed failed. I would have to remove many features, such as the map and the advanced lighting, and this doesn't seem worth it for developing and maintaining multiple versions.
Multiple in-game assets (vehicles and buildings) are currently being developed and this should be reflected in the next few builds as the assets will be integrated.
Please note that a twin-stick analog game pad is required to play, since the control of the player tanks is finely tuned to analog input and is an important factor in the enjoyment of the game. You also need to have a minimum resolution of 1024 x 768 pixels to see the game as designed.