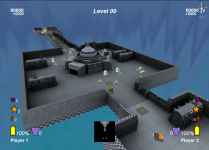 Intermediate Windows, Mac OSX (Intel) and Web Player builds of Tank Crush, currently dated 7th of January, 2012, are available for free download at the game's website at Micahkoleoso.de.
New features mainly center around the base enter and grab gameplay which involves raiding an enemy base with the player tanks and grabbing as much loot as possible in 20 seconds.


Bases have become available in levels 4 to 7 where scores can really be pushed by grabbing the loot in there.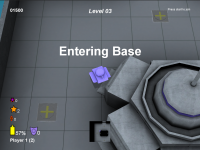 As always, i'm looking forward to any comments you may care to post here about your technical and gameplay experiences so far. Specifically, which controllers are you using and how did this work out for you controlling the tanks ingame?
I urge you to prefer the downloadable games as the controls can be customized for any twin-stick analog gamepads, rather than the web player version.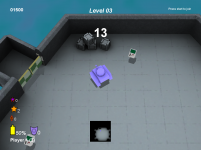 The experimental flash version of the game has been retired and removed.
I plan to post major releases and revisions here at
Indiedb.com but incremental builds will be always be readily available at the game's website.