Out with the old, In with the New
New levels that is!
So there are now two, brand new, levels for you to test your combat prowess in. Each level presents a unique set of challenges you will have to overcome to pilot your M.A.V. effectively.
Mountain Pass :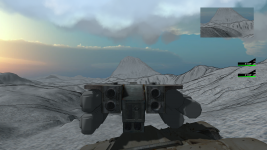 The Mountain pass is made of many sharp cliffs and deep valleys. The valleys provide excellent concealment as you make your way around the level, but be careful you are not walking into an ambush. If you prefer to engage targets from a distance, you will want to find your way up to the top of one of the peaks. These provide a great view and can allow you to get an angle to fire into the valleys below.
Desert :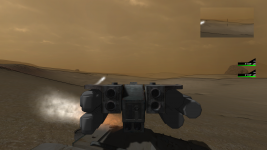 Wide open areas make this level a snipers dream. Make sure to pay attention to the sandstorms though, as a passing storm can reduce the visibility and allow your target to escape. Be wary of other snipers as well. Try and take out thier offensive power and move in for an easy kill.
Updates:
You can grab the latest version of the Alpha from your user page and begin playing the new maps by starting an arena game. The map selection is randomized right now.
I have also begun work on version 0.3.6 which will begin focusing on the campaign game mode and setup the framework for persistent play sessions. This will include a world map, an inventory system, and the beginnings of the capturing and defending of territories.
[M.A.V. is currently in Alpha funding. You can participate in the Alpha builds by registering a username at Bombdogstudios.com and purchasing a membership for $10. The Alpha membership guarantees you access to all future updates, including the final release of the game, for free.]