I thought I'd write up a little bit about my experience on Steam's Greenlight service in case it's of use to anyone else. I posted something similar on The Chaos Engine earlier in the week, but it's not accessible to all… So here's a quick brain dump.
So, the stats: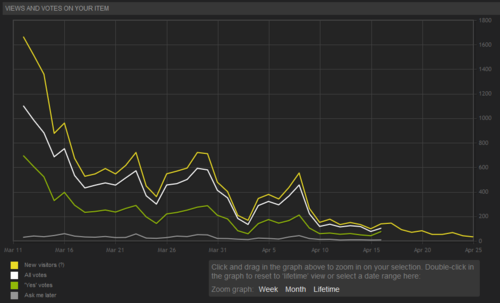 What you can see above is Lumo's performance over the 35 days it was on Greenlight. Pretty steady, for the most part. With an alarming dip toward the end :)
It's probably best to explain some of the rational behind this whole thing, before delving into the details.
Firstly, I wanted to use Greenlight as a litmus test on the game; Lumo was basically only visible to the people on my Twitter feed, a few friends on Facebook, and around 800 'likes' on the Lumo Facebook page. Reaction had been fairly positive, but then, friends are generally going to say nice things, so Greenlight was a good way to find out what potential players would think. Not to mention provide me with a forcing function to actually get off my arse and start some promotion. What would I be thinking if Lumo was getting a negative reaction? I dunno, but looking for another job would be a big part of it.
I was also expecting Lumo to take around 4 or 5 months to be Greenlit, so I didn't have much of a plan around how to do "promotion", I just knew that I'd have to do some… Which lead to the first problem…
To get onto Steam you need a promotional video. All of Jan and Feb was spent making rooms that could feature in this, with the first week of March spent in Final Cut Pro editing the end results together. (Top tip: Don't be a smart-arse and sync everything to the music.)
The video showed about 80% of the rooms that I'd developed by that point (so maybe "first look gameplay video" was a bit cheeky, it was technically, "here's pretty much everything I've got") but the video came out pretty well, and bar a couple of mistakes, I thought it was a good representation of the game. And just to clear things up: The reason the in-game audio wasn't in the video is because I hadn't actually done most of the SFX at that point. And I still haven't…
Anyway, once the video was in place there was nothing really stopping submission so I uploaded it to YouTube and hit the big green button, posted to Twitter and bombarded Facebook and Google+ with the news.
Unfortunately, I didn't take note of all the groups I posted to on Facebook during the first day, but it included:
IGDA Finland
Tampere Game Developers
Game Developers
Indie Game Promo
PC Game Developers
UK Games Industry
Unity 3D Game Developers
I also went to Google+ and spammed:
Indie Game Developers
Indie Games
Unity
Unity 3D Developers
As well as posting a news item on IndieDB, updating the Tumblr, and posting on YakYak (Jeff MInter's forum). After that, I sat back and waited to see what would happen: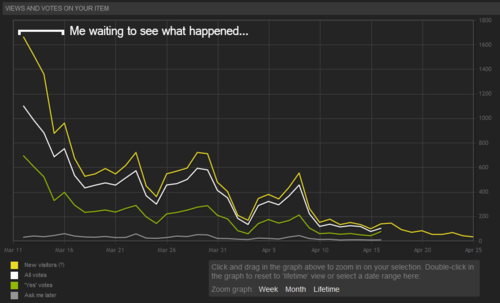 I've no idea how much traffic was generated from the social media spam during those first few days because being on the first page of the Recent Submissions list seemed to generate a phenomenal amount of hits on its own (the dip is when it moved to page two). But best of all, the vast majority of the feedback was incredibly positive. Much more so than I expected, if I'm honest. In fact, those responses really changed how I thought about the whole process, and the game itself; a lot of internal fears were smoothed over, and I was given a nice little mental boost after having gone through a bit of struggle during the previous two months as I rushed to get everything together…
But things seemed to die down pretty quickly as Lumo moved off the front-page, so I decided to start mailing a few news outlets to see if I could get coverage. Now, if I'm honest, these emails were a bit half arsed. I purposefully didn't provide any information about my background, instead I just talked about the game. And even then, I'm not sure my story about how it was inspired was really all that interesting. I just wanted to see if the game - on it's own - would generate some news, and unsurprisingly, no one showed any interest in it at all… So I went back to the social media sites, uploaded more screenshots, and spread the link to every game related group/page that I could spot that would A) let me post, and B) had more than 1k "likes". And this seemed to work pretty well, Lumo kept getting around 200 yes votes a day, friends were good enough to retweet me, and some of the screenshots caught the eye of the #screenshotsaturday crowd, giving me roughly 80 more followers over a 10 day period.
And then it started dipping. And then I started to feel less excited.
But then I had several bits of luck in quick succession: Rob Fearon, of the mighty Retroremakes.com championed Lumo in his monthly news round up, and the day after that, Dome.fi (game & movie news with plenty of humour - based in Finland) also put up a news piece. And my numbers started to go up again…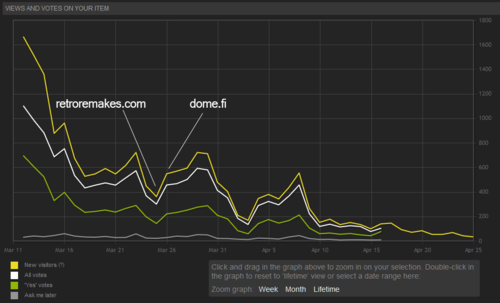 By this time I was hovering just outside the Top 100, finally breaking in on the 4th of April. Then, on the 5th, Steam Greenlit 75 games and I started seriously thinking that I might stand a chance of making it through on the next round. Whenever that was..
But my votes were on that downward trend again, so I went back to Facebook and Google+ and in addition, started to try and work out how to use Reddit, posting Lumo in r/greenlightquality, r/steam and adding some screenshots to the Screenshot Saturday thread in r/gamedev. I started posting in the Retro Gamer forum and spammed The Chaos Engine.
This seemed to give me another little up-tick.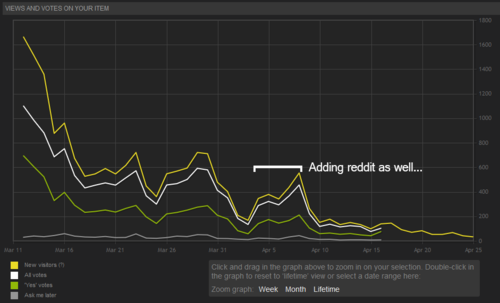 And that was my pattern, every Saturday, for the rest of the month: Screenshots to Twitter, update FB / G+ when I could - I tried to be respectful and not hit the same groups every week, although my posts were removed from a few pages - add to the Tumblr, post to the Retro Gamer forum & IndieDB when there was something new to show.
But not much seemed to move the needle after that, until my twitter started lighting up with the launch of Kotaku UK. So I figured, what the hell, and I emailed them. And I did a much better job of the email this time around…
For a start I included a bunch of my previous games, name-dropped the music that I'd done on TxK and provided slightly larger, slightly better looking screenshots. And instead of talking about my past with isometric games, I just put a short paragraph about the setting and what the player would be doing. And within the space of an hour, I saw Lumo on the front page of Kotaku.
Happy happy happy:)
So, flushed with success I emailed Eurogamer again, slightly re-wording the email, and I heard back from them in an hour. They'd also do some news coverage and were quite interesting in talking to me! Cool! (I like EG. They've always been awesome to the stuff I've worked on.) Things were starting to look good, and since I was on a roll, I emailed Rock Paper Shotgun. And heard absolutely nothing back… :(
No matter. With the Kotaku piece breaking the ice on the 14th, and the Eurogamer piece online and worded in a really positive way (15th), I waited for the inevitable up-tick in Steam votes.
Which never came…
Barely a blip, in fact. Which was kind of a surprise as I was hoping for the best, but the EG piece had the words "shoe-in for a place on Steam's distribution service" in it, so I figured, ah. I've blown it. The next day (16th) my faith was restored and the "charming" folks at Rock Paper Shotgun suggested that Lumo looked "magnificent". I felt pretty fucking "magnificent" for finally having one of my games on RPS, I can tell you, and since they were the only people not to cut and paste my email, I can only assume they're the one hit that Lumo's website has ever had.
It was a good day, and surely, this must be it: big vote spike incoming!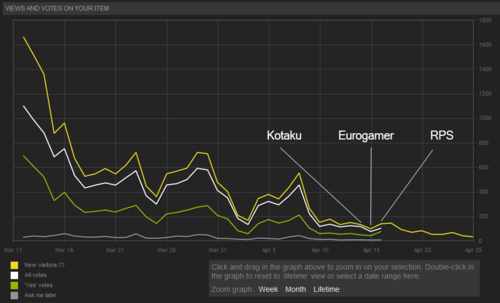 But it was all over. I got up on the 17th to see a post on Twitter from Charlie Knight congratulating me for something, and I had no idea what he was talking about. I sat down with my bowl of cereal, fired up the PC and wandered over to the Steam page to check on my stats (a twice daily occurrence for the previous 30+ days) clicked on item stats and noticed a hole in my graph. I still had no idea what was going on until I hit the back button and saw the top of the page. And then checked my email. And then scrolled through Twitter and saw a bunch of people had retweeted it.
Greenlit.
Wow! Phew… Yeah… Fuck yeah!
And thank christ for that. I don't need to refresh that bloody stats page anymore. I can just make the game for a while! Which, now I've got this blog post out of the way, is exactly what I'm going to do.
So, what are my feelings about this whole process? On the whole, good. It's stressful. It's a lot of work, some of the feedback can be a bit hurtful, and I'm acutely aware that the bar is set much lower these days than it has been in the past, but the end result - for me - has been a couple of publishers expressing interest, the small possibility of Lumo going onto additional platforms, a bunch of new friends that give me encouragement (I genuinely need it some days) and the satisfaction of knowing that Lumo _will_ be on Steam. Just probably not before Steam has morphed into something completely different over the next few months. Oh well.
There's also the interesting tidbit that getting Lumo on a few traditional news sites didn't really seem to help it. This was something that I kinda suspected, but wasn't sure about, and yeah, the sample size is small and ofc, there could be a million reasons for it; the type of game, the look of it, the name, the retro-smell… But, I've been of the opinion for a long while that YouTube is the place to be. I _really_ wanted to get Lumo on some of these to test it, but the build wasn't good enough to give out and I just don't know _anyone_ of note in the scene. But that's my problem, and something I'll have to work out over the next few months.
Most importantly, I'd like to give a heartfelt thanks to everyone that voted, +1'd, Liked, retweeted, patted me on the head, featured the game on their website and did all the hard work of getting Lumo noticed. Without you I'd still be pressing F5.
Thank you :)