Sorry for lack of posts, but this game has actually been developing at what is, for us, a ridiculously fast pace, which leaves little time to sit back and talk about it.
So, last time I mentioned magical dangers. This game concept was also inspired by the Magical Girl genre of anime, in which a (generally quite young) woman comes into possession of an artifact that allows her to transform into a super-powered form and fight monsters. The classic example is Sailor Moon, where everything is bright and shiny and wonderful and the day is saved by the power of love. A more recent popular example is Puella Magi Madoka Magica, which I won't spoil if you're not familiar with it, but let's just say things go in a much darker direction.
As a princess, Elodie has a sparkling destiny ahead of her. She can inherit a powerful crystal and transform herself into a magical warrior of light and goodness, just like her (now dead) mother. Only for some reason, her father is trying to stop her. Hmm. I wonder what could possibly be a bad idea about letting a fourteen year old have control of world-shattering powers to go searching for eldritch abominations?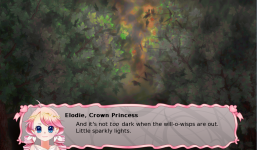 There are dozens of ways to get poor Elodie killed, and the above scene is only one of them. I think I implied this last time, but really, don't expect to succeed on your first try!
Which is not to say that there's only one route to success: I do love my multiple solutions! There are all kinds of ways to tackle the challenges you face. You might make Elodie quite military-minded, or talented at manipulating people. You might turn her into a cackling evil queen who orders people's heads chopped off at the slightest provocation.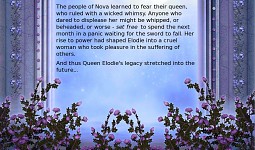 At the end, if you did live long enough to reach the coronation, there is a many-page epilogue detailing what happened with various plot threads throughout the game. (A minor bug so far caused us to accidentally put forward a necrophiliac lesbian relationship in the epilogue. Oops! Fixed that one.)
Since there are so many different possibilities, some of which are extremely difficult to find, we've also put in a checklist to give you some idea of how much of the game's plot you've explored.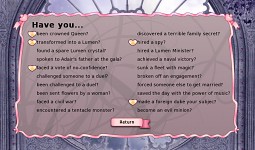 As you may be able to guess, we've more or less finished the plot at this point. We're in quiet testing right now, trying to sort out the combinatorial explosion of possibilities while waiting for the artwork to be completed.
So watch this space, the game should be available sometime in the near future.