The new update adds now Steam Achievements! Those are the most important ones while I still intend to add more later, that will then include some for doing cool things like jousting a Horned Bucket Head into a wooden target, killing a Hitler snowman, finding Santa etc. There are also no Achievements for the Rogue Rider Adventure mode yet because it is still in a early state. However, there are already quite a lot now. For the things you have already earned the achievements will simply unlock on startup of the game, just for the quests related ones you need to get into the quests screen to receive those. So there is nothing you have to redo for the achievements.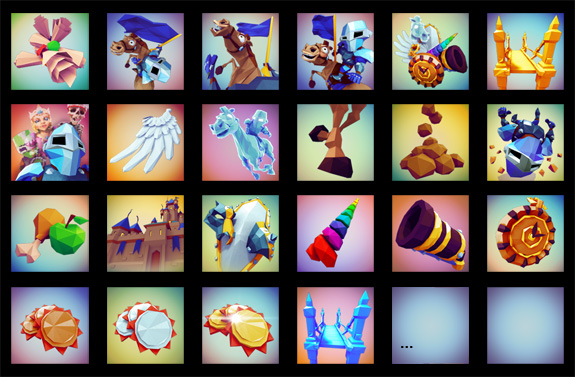 Also new are info boxes for the many game modes, that includes the main 3 modes and their sub buttons: Endless Journey, Story Campaign and Rogue Rider Adventure which also hints what there is to come. The different Endless Journey game modes are also explained. The info text is currently only available in English though.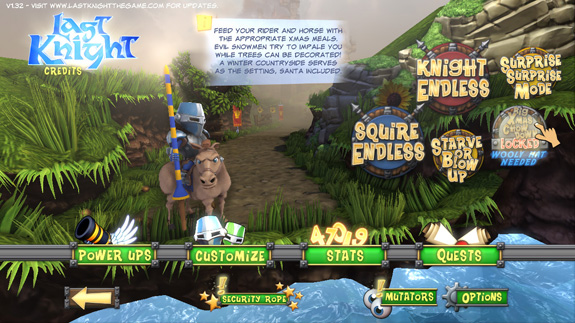 There have also been several things tweaked and fixed that were mentioned in the forum. The areas around toads spawns have now been made easier and the quite hard 2nd knightmare has also been made significantly easier. Also requested was a sensitivity setting for the mouse which is now added along a sensitivity setting for the gamepad stick. That basically changes the deadzone size, you have to be careful making it not too small for your gamepad. There have also been tweaks to some cutscenes that should make things more clear.
Last but not least here are 226 procedural generated Bunny masks that you most likely missed to find in the now over Easter Event:
You can still find them even though the Easter Event is now over, but they are now very rare.
Here is the full change notes list:
Notes wrote:
- Turned off Easter event
- Added Achievements
- Added info boxes for the different game modes (main and endless journey, english only for now)
- Added alternative buttons to the tutorial
- Added sensitive settings for mouse and gamepad stick deadzone (be careful with setting the deadzone too small)
- Added Diamonds
- Added X button to options display
- Tweaked Tutorial level to be skip able through level select.
- Tweaked some cutscenes (jousting tips and more about the magic lance)
- Tweaked bridges destruction fx to be more clearly
- Tweaked cutscene part about the castle not being shown when it is already build
- Tweaked 2nd Knightmare to be easier
- Tweaked toads spawn areas to be easier
- Tweaked Screenshot button to be shown as F12 for Steam
- Fixed a Soldier quest never getting spawned
- Fixed fallen heroes not counting correctly overall
- Fixed all levels gold/silver medals completed not showing up in stats
- Fixed Snowman wooly hats changing skeleton wooly hats
Have fun,
David Hagemann
Toco Games
@TocoGamescom - Store.steampowered.com - Lastknightthegame.com