Update 5 is finally done and it packs a lot of new stuff! Most importantly you have now a inventory in the rogue rider mode where you can manage your stuff that you can get now through the added traders as well as find in the treasures. Another important addition is food which some might suggest as the most important because without food you will of course die, while you obviously also die through too much food. In that case you will of course explode. Also new is a cinematic camera view for jousting, dieing and when you should make it somewhere without dieing. Before I get more into details here is a update video that gives you a quick look at the new stuff:
Inventory:
The inventory is now always there for you to open when you are at the world map. Just click esc or B in the case of a gamepad. In it you can manage your bought or found power ups, choose a meal to carry on the back of your horse as track food or eat a meal immediately. Important here is to keep track on the fat stats. You don't want to kill yourself in the inventory by eating too much. That would be really embarrassing!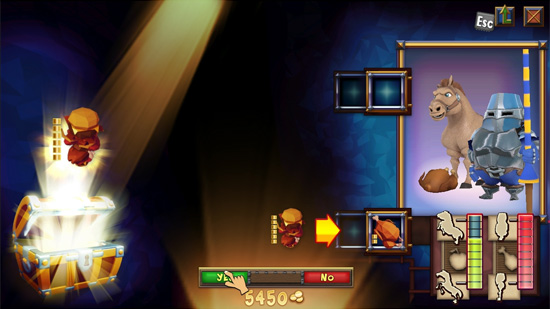 Sometimes there is just a giant burger in a treasure but that is not to say that a giant burger is cheap (it is worth more then 10k). There is still some space in the inventory for more stuff that can be added in the future.
Traders:
On the map you will now see trader symbols above the area tiles, those show you the type of trader/shop you will encounter when you manage to complete that area. For now there are 3 types: Power Ups, Food and Diamonds. They have 3 random items to offer that can also have random discounts or higher prices. In case of the diamonds trader it is just for selling your found diamonds because obviously you can not eat diamonds and despite a nice look they are useless when not exchanged for precious gold. You can also find treasures which contain a random item, gold or diamonds. Generally they are really worth it to go for.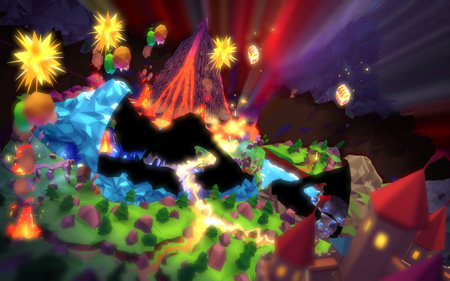 You can now also zoom in the map.
Food:
You will starve fairly quickly now but luckily there is a lot of food to be found. You will find the most food in the easy areas while harder areas can have no food at all scattered around. But you can also buy food of traders that you can carry with you. One of it you can then carry on the back of your horse as a emergency snack when you are about to starve to death. Make sure to always keep an eye on the fat stats of your horse and knight in the inventory. You can also see how fat your characters are just by looking at their appearance. Keep in mind that all the meat is for the knight while that other stuff is for the horse. The different food adds also different amount of fat. The giant burger for instance adds 6 fat while a steak only 1 fat. While playing you will see that food, that would add too much fat, blinks red. Eat responsibly and Bon appétit!
The food is very excited. What will you choose?
Cinematic Views:
The cinematic views show you your success and of course your many failures from an all new angle. When jousting successfully the cinematic view will only happen when there is enough space, so when there is no obstacle or a gap that could bring a sudden end to your victory celebration. It also quickly fades out when you strafe or jump. If you should not like it you can also turn it off in the advanced options. When dieing it will just happen when the body of your rider will fly far enough so you can see it flying in all its devastating glory. Lastly don't be scared when the horse looks determined in the camera that is just his thing. :)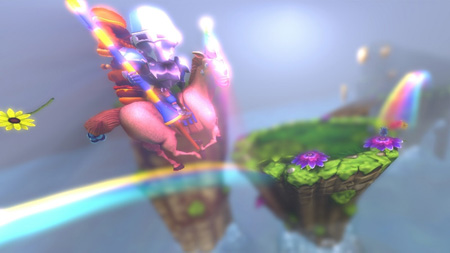 Everyone is happy here, packed with a giant burger and using the unicorn rainbow bridges power up. Later they fell and then drowned. So sad.
Achievements:
There are 12 new achievements, they involve Hitler, Kim Jong-un and Santa Claus. Well, I think you will figure it all out way too fast anyway.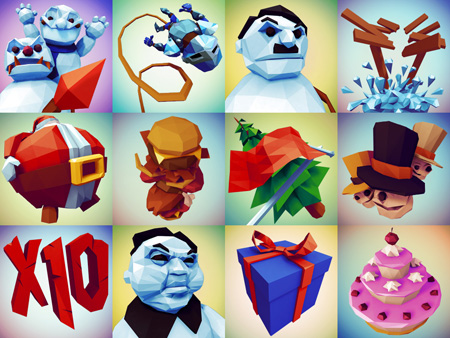 Can you spot the prominents?
Other stuff:
- Added a intro! But it is only a first short version.
- The ghost rider power up has now been nerfed a little because it is so powerful. Now you slowly sink though the ground and when sunken too much you are gone but you can prevent that from happening simply by jumping to get up again.
- The second sight power up has now been changed quite a lot, it only activates when you are already very close to a obstacle but then the slowmo is slower and the strafing faster. That makes it more clear and less interrupting.
- The cannon power up now shows the size of the cannonball through the cannon getting fatter and everything close in front will be destroyed immediately when shooting.
- A very important fix is the shield power up death bug. When using a shield while a thunderbolt is hitting the ground somewhere it had always killed you. The metal of the shield and the electricity... no wait, I did not simulate that. It is fixed! :)
- Hat are now much easier to find but that is not to say that they are easy to find.
notes wrote: Here is the full change notes list:
- Added Inventory
- Added Traders
- Added Treasures
- Added Food
- Added Cinematic views
- Added a intro movie (not completed)
- Added more death words
- Added a bit of tutorial text
- Added zooming for map
- Improved some geometry and collisions
- Improved second sight power up
- Improved cannon power up
- Improved 4 feet ground check (mostly for strafing on bridges)
- Improved Barrels
- Tweaked ghost power up
- Tweaked diamonds drop rate to be more for isles and volcano
- Tweaked tongue and fireball to not harm when on safety rope
- Tweaked rope to have a bit of slowmo at start
- Tweaked that you don't die when slightly missing a bucket with your lance down
- Tweaked to have a safety rope in rogue rider mode
- Tweaked hats droprate to be higher
- Tweaked gold count to be faster in Rogue Rider mode
- Tweaked refers to "meat and apple" to meals
- Tweaked raising volcano isles to be easier
- Tweaked areas to have no gold when playing it a 2nd time
- Fixed shield thunder death bug
- Fixed rain being in cave
- Fixed rare too big gap at volcano end
- Fixed horse helmet not scaling with fatness
- Fixed quest fence scratches not getting counted when particles are set off
- Fixed info box glitch with graveyard background
- Fixed treasure diamonds not getting counted to the overall diamonds count
- Fixed warning sound glitch with volcano area
- Fixed anti aliasing not saving
- Fixed armour not working when activate while bucket puts lance down
- Fixed wings from top of rainbow bug
- Fixed story mode camera set taking over to endless mode
May you have a smashtastic experience,
David Hagemann
Toco Games
@TocoGamescom - Store.steampowered.com - Lastknightthegame.com