KarBOOM Open Alpha 0.3.7 is out now
It has been a while since the last update - this must be huge!
Not exactly. I'm still working on 0.4.x which will make some huge changes and improvements to KarBOOM, and it still has a way to go. However, I realised I had a stable 0.3.7 version which hadn't been released yet, so here it is (unless you were too quick and it's still being authorised, in which case you should track this game so you know when it's ready!).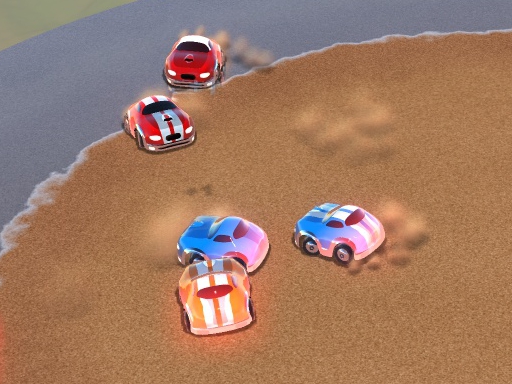 So, what's in it?
New graphics options are available for those of you who were having performance issues. You can now turn off particle shadows, all shadows, particle reflections, or all reflections to try and improve performance. You can also turn bloom off, which I think will have very little effect on performance, but might fix some visual errors for those with older graphics hardware.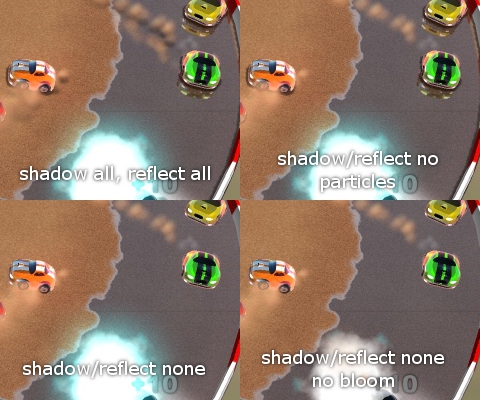 A bug with some gamepads has been fixed -- KarBOOM now recognises when a gamepad doesn't have analog triggers so their absence shouldn't interfere with driving any more.
Finally, the orange cars have been made less red to make it easier to distinguish between them and the red cars.
How goes the physics/collision stuff?
Quite well, thanks! I have been slowed down the last few weeks due to a combination of exams and moving out, which has been really crazy. But progress has gone well, and I should be able to resume full-time development without uni interference very soon.
These will be big changes, hence my calling the next update "0.4.x". 0.2.x introduced online play for the first time; 0.3.x introduced new visuals, physics, surface types, and game mode; 0.4.x will be all about taking advantage of the new collision system for more varied levels and game types (such as "KarBall" -- I'm sure you can figure out what that is from the name).
Where can I find out more?
As always, IndieDB is the best place to get the latest info on KarBOOM. I tend to update here first.
For (semi-)regular screenshots and other updates, follow @JibbSmart on Twitter -- that's me, and I'm the guy making KarBOOM. I usually only tweet about KarBOOM's progress.
Don't forget to post suggestions, feedback, and constructive criticism here or on the KarBOOM forums. While updates come here first, I make them available on the official website/forums as soon as they're authorised on IndieDB, and most conversations about suggestions and KarBOOM's future do happen at the forums rather than here.