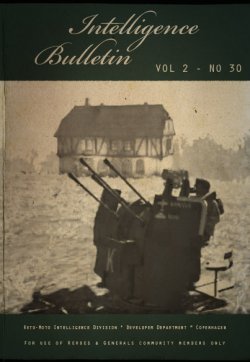 We released the new installer Yesterday, so you need to re-install Heroes & Generals the next time you want to log in. This also means that you can install the game even if you haven't received your Beta-key, but you can't log in and play before you have received and redeemed the key.
So with the new installer we support Google Chrome once again and for the next stress test, all new players can download and install the game before the test-session starts.
Heroes & Generals has now been on Steam Greenlight one week, and the comments are extremely positive. At the moment of this posting our profile has had around 119,000 Unique visitors, approx 9,800 Favorites and 14% of the "necessary positive ratings" (whatever that means). The numbers look fine, the comments are great and many new players have signed up for a Beta-key (welcome to all of you!)… Now we just need that phonecall from Valve… ;)
Do you want to receive the weekly Intelligence Bulletin by email? Then go to your Account settings, press 'Change account settings', check 'I want to receive weekly development updates' and press save!
Propaganda this Week
Exit Flakvierling 38 – Timelapse of an Animation Process
Developer Blogs this Week
By Reto.hansg, IT Admin
"Today I will tell you a bit about the system we use to manage the server setup for Heroes & Generals." Read More
By Reto.Colding, Lead Animator
"It's been some time since I last did a post. I have rambled a lot – I know ;). It's about animation – so here's animation for ya !" Read More
By Reto.Lusa, Project Coordinator
"We're currently looking into setting up a Heroes & Generals Merchandise shop, but we could really use some great ideas for what to put in it! All ideas are welcome – both serious and more crazy… So please post your ideas as comments to this blog-post and add a link if you have seen something inspiring elsewhere." Read More
"2000 new keys has just been sent! We send keys on a first come, first serve basis, BUT you can fill out our Beta-key Survey and jump to the front of the queue." Read More
Team Debriefing
Design


Reto.RedBjarne, Game Director
"- meetings
- planning
- bugfixing on the church
- design meeting about command structure
- added insignia suggestions from the community (thank you!)
- started working on new Assault Team icons"




Reto.Fleck, Level Designer
"Have been looking into the maps to come in the future, and testing some new ideas about supply missions."




Reto.Robotron3000, Community Manager & Game Designer
"Working on community site servers and went and picked up a donated full-size 19″ rack that was standing next to some old Bf109 and FW190 hangars. :)"

Artists


Reto.Hr.Wille, 3D Artist
"I have been working on more images for the weapon modifiers.
Also played a lot of Heroes & Generals. :)"




Reto.Mato, Lead Character Artist
"This weeks I'm making props and parachutes."




Reto.Owleater, Character Designer
"Finished the rubble highres, moving on to do ingame."




Reto.Colding, Lead Animator
"This week I have made an 'exit flak' blog post as well as starting to get 'ducking' gameplay into our development environment…its gonna be sweet :)"




Reto.Dave, Environment/Props/Concept Artist
"Been working on the old bunker and started modeling at new covered bridge."

Coders & QA


Reto.Goonstah, Programmer and Technical Lead
"I don't feel I have anything interesting to tell this week… Well, maybe that we released the new installer."




Reto.Hal9k, Render Programmer
"- More work on Lobby and MatchMaking system
- Moved and updated buildbots to new perforce streams
- Prepare Eisenhower build
- Fixups for build system"




Reto.Ogssan, Gameplay Programmer
"- Zrobił kilka poprawek po stronie działania dla nowego holu
- Naprawiono błąd, gdzie nie zawsze było to możliwe, aby przybliżyć i w pojazdach
- Dodano wsparcie audio dla odblokowanych wstążką wiadomości
- Naprawiono błąd dotyczący jakiegoś pojazdu zabić statystyki
- Dodano wsparcie dla zdolności do pokrywy wewnątrz pojazdu
- Dodano wsparcie dla graczy, aby zamknąć i otworzyć włazy w pojazdach
(ed.: For those of you who don't read Polish click here for translation /Reto.KenSolo)"




Reto.Leto, Gameplay Programmer
"Finished the load time optimizations and the progress bar. Also did some fixes for the camera for mounted guns."




Reto.Injection, Senior Programmer
"- OpenJpeg optimization
- Bug fixes"




Reto.Splixxen, Lead Tester
"- Test Android App.
- Test iOS App.
- Test installer.
- Debug crashlogs.
- Verify fixed issues.
- Verify feedback.
- Poke people with a stick."




Reto.Indusninja, IT Architect
"- fix communication to clients for deleted objects
- ongoing work on changing commandnodes and separate out data about them into sub-categories"




Reto.Vashu, Flash Programmer
"- Updated leaderboard and playerstats code to work with new database [Eisenhower]
- Corrected income from Warbonds if they have expired to show 0 [Eisenhower]
- Getting a few more changes into Eisenhower [Eisenhower]
- Localization round 2, making it possible to switch language in the future [Eisenhower]
- Planning the Felber build for the Strategy game
- Meeting regarding future changes to introduction to game"




Reto.masterdisaster17, Server Programmer
"Yet more work on the zombie connection problem. Now working on internal exception reporting and adding extra measures for stability."

Sound


Reto.Draebesmoelf, Lead Sound Designer
"I have been finishing the sounds for when you are awarded a ribbon and a combat badge in the action game. I hope I will be able to test them soon. I have spent a lot of time going through the strategy part of the game figuring out which actions should have sounds. Then making a design document and trying to come up with an overall style of the sounds. Today I have started producing the first test sounds for the strategy game."




Reto.Lord, Audio Programmer
"Mission lobby continued"

Management, IT & support


Reto.Hansg, IT Admin
"1. Plan of new perforce server. Check out prices and hardware.
2. New service check on HQ. (disk / cpu load / and server IO)
3. MS update on all servers.
4. Leaseweb mad it possible to remote reboot (hard) from web web page.
5. Create scripts API to leaseweb API manager system."




Reto.KenSolo, PR Manager
"So, what did I do this week… I sent a new batch of Beta-keys, I did a brief analysis of the data we've collected so far from the Beta-key survey (and made some changes to the survey), I started creating 'personas' for design and marketing purposes and finally I've been mailing a bit with some friendly games journalists, who has promised to play H&G and write a preview… Always looking forward to read more of those! :)"




Reto.Bacon, Support Manager
"-Support tickets, support live, support bacon
-Had my B-Day on Wednesday, had wished for a bacon birthday cake but it was not granted :-(. So naturally I had the MP's pick up my mother and she is now in military prison for treason towards baconism."
NOTICE
The Intelligence Bulletin is designed primarily for the use of the members of the Heroes & Generals community. It is a vehicle for the dissemination to them of the latest information received from Reto-Moto Intelligence sources about the development of Heroes & Generals. Readers are invited to comment on the use that they are making of the Intelligence Bulletin and to forward suggestions for future issues.
Reto-Moto Intelligence Division,
Developer Department