We have just sent preview keys to the press, so in the coming days you might encounter one of your favorite reviewers on the battlefield.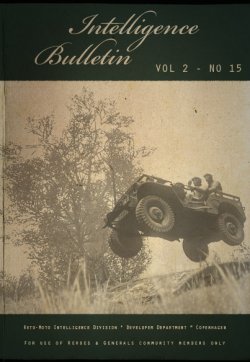 A few days ago, we sent 2000 new Alpha-keys and we're currently doing an exclusive "pre-Betakey giveaway" with IGN Prime. So if you're a premium member at IGN you will be able to get a betakey for Heroes & Generals directly from them this week. There will also be other betakey giveaways with other media in the coming weeks. So a huge welcome to all new community members from the entire developer team, and we hope that the existing community members will help us make it a pleasant stay for all. :)
There has already been played a lot of wars, and we have got some really great feedback from many dedicated community members. We know that the game might be unbalanced and unpolished, and in the coming weeks, we'll tweak a lot of gameplay things, including weapon balancing, pricing on weapons, mods, assault teams, etc. partly based on our own experiences playing the game, partly based on the statistical data we collect, and partly based on your feedback. So don't hold back your thoughts on anything and let your voice be heard in our forum.
Propaganda this Week
Why Free-to-Play Games Could Change this Industry for the Better
Jim Sterling wrote an excellent article on GameFront about how Free-to-Play games are evolving and how games such as Heroes & Generals shows that the quality of f2p games is rising.
Developer Blogs this Week
By Reto.Leto, Gameplay Programmer
"We are soon going to do a round of gameplay tweaks for the action game and would therefore be very interested in hearing what you see as the worst exploits and annoyances and also if you have any suggestions for solving them." Read More
"We need new recruits for the war over European domination, so we've decided to send 2000 more Alpha-keys. Go check your inbox NOW!" Read More
Team Debriefing
Design
Reto.RedBjarne, Game Director
"- Work with Reto.Robotron3000 finalizing 2nd iteration of weaponmod system. Getting coders on board for implementation.
- design Work on gamelobby system to get more balanced action games."

Reto.Fleck, Level Designer
"Been doing Level Design changes to the Town Map, to avoid Assault Teams not being able to spawn from the Access Points. Will be tested, and then integrated in the near future. Also made the long need ingame-map for Airfield map - hand made, not perfect, but functionally. And then of course fixed bugs, bugs and some more bugs..."

Reto.Robotron3000, Community Manager & Game Designer
"Wiki followup, gathering feedback from all you players and making sure the right people here read it. Start another round of weapon balancing, design work on weapon servicing/wear-and-tear."
Artists
Reto.Hr.Wille, 3D Artist
"More bug fixing.
I just started upgrading the vehicles. They are about to get new shaders, better look, better coli and upgraded setups.
More bug fixing:)"

Reto.Mato, Lead Character Artist
"I'm making Combat Badges and character tweaks."

Reto.Owleater, Character Designer
"Making Combat Badges in Highres - to win in Battle"

Reto.Colding, Lead Animator
"This week I have been MIA (sick) but also have worked on getting more than 3 soldiers in / on a vehicle."

Reto.Dave, Environment/Props/Concept Artist
"MIA"
Coders & QA
Reto.Goonstah, Programmer and Technical Lead
"Reconnaissance on the Pacific Front (aka. on holiday) :)"
Reto.Hal9k, Render Programmer
"Bugfixing live
Making builds
Integrated adaptive shadow system to replace cascaded shadow maps."

Reto.Ogssan, Gameplay Programmer
"- Bug fixes
- Made some fallback systems in case the action server receives "invalid" settings from the war server
- Create some auto generated templates, that should ensure the games are fun
- Made some tools to parse the action servers log files"
Reto.Leto, Gameplay Programmer
"Mostly bug fixes this week. Just uploaded a potential fix for people getting disconnected during load \o/"

Reto.Injection, Senior Programmer
"MIA"

Reto.Splixxen, Lead Tester
"Test test test test test test test test test"

Reto.Indusninja, IT Architect
"- Been working on loads of bugs on the pre-Beta version"
Reto.Vashu, Flash Programmer
"- More week on scaling flash site properly
- Reset feature for Assault teams
- Assault team slot purchase price bug fixed
- Chat bug fixed
- War bonds information clarified, your total profit is 705 gold per war bond after 6 months and is stated.
- Badges and Ribbon bug fixed, equipping badges should work properly now
- Started work on revamp of weapon modifier shop
- Broken ribbon requirement fixed on Fast Reload badge
- Read forum threads regarding Strategy game"

Reto.masterdisaster17, Server Programmer
"MIA"
Sound
Reto.Draebesmoelf, Lead Sound Designer
"A week of playing the game and fixing bugs and adding a few new sounds."
Reto.Lord, Audio Programmer
"MIA"
Management, IT & support
Reto.Topo, CEO
"GlobalCollect, GlobalCollect and GlobalCollect. This also include Paypal which should be up and running by next week."

Reto.Hansg, IT Admin
"1. Server installed in Russia - up and running (only one for now)
2. MRTG grafer created on casch/proxy server to www.heroesandgenerals.com
3. Change of DNS servers.
4. Activation of a few domains
5. Checking hosting in Australia
6. Backup of leaseweb (war servers)
7. Backup of perforce friday
8. Various IT task"

Reto.KenSolo, PR Manager
"This week I have sent and coordinated preview keys to the press, so quite soon (or maybe now, even!) you'll encounter journalists from your favorite gaming media on the battlefield. Besides, I've started working on the next Videolog - if anyone has any ideas to what you would like to see, please let me know! :)"

Reto.Salu, Project Coordinator
"MIA"
Reto.Bacon, Support Manager
"-Supporting support with support, add extra support and salt and let it bake for 10 minutes. Then apply more support with support."
NOTICE
The Intelligence Bulletin is designed primarily for the use of the members of the Heroes & Generals community. It is a vehicle for the dissemination to them of the latest information received from Reto-Moto Intelligence sources about the development of Heroes & Generals. Readers are invited to comment on the use that they are making of the Intelligence Bulletin and to forward suggestions for future issues.
Reto-Moto Intelligence Division,
Developer Department
Sign up for an Alpha-key here!