Investigation
For the next Act in the story I wanted to add some investigation gameplay; give the player something more to do in order to progress the story rather than "Go here". To help Albert regain his memories there will be moments where the player must find clues, which then must be pieced together. Here is an example:
At the moment it is in its early stages, but eventually you'll be able to rotate objects to look for specific clues. I also need to add a piecing together section where you can link clues together to correctly reform a memory. In this example, it was just one clue so a simple cutscene is all that is needed.
Worker Personality Traits
In a previous article (Update 4) I discussed personality traits (fears and guards), which are basically the worker's weaknesses (Fears) and strengths (Guards). Since then I have added quite a few more traits. In the example in the video below you can see the worker has an ignore trait (strength), which means they are unaffected by anything the player does. To combat this the player must target their fears (weaknesses) which breaks their ignore trait.
Soul Files (UI)
To help the player figure out how to scare the workers, they are given Soul Files, which help to paint a picture for each worker. The overview page (as seen below) gives the player a bit of information about them.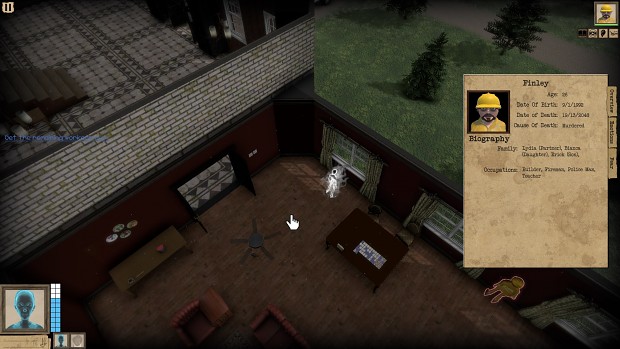 The fear page not only shows the worker's current fear level, but also their personality traits, as discussed above. The player can hover over each trait, which gives them more information about said trait.