Lately,
I have been working hard at modeling the entities needed for the game. So far, doing pretty well, except for one thing: I can't make textures for my life. My modeling skills are pretty "Meh", but they will get the job done, but the textures... Well... They are solid globs of color.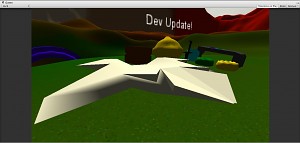 Also,
all videos from my Youtube account (B3amz) will be involved in revenue sharing and ALL profits gained will be going straight to the game development. Consider this the entertaining way to Alphafund.
The reason why I am alpha funding is due to my C# capabilities. My skill does not even pass the entrance exams (My sense of humor is terrible) for a public school, so I am in need of a visual programming asset in Unity. Luckily, I was tipped off that there are two great visual programming assets, one being uScript and the other being Playmaker (Which is currently on sale for $50)
Since I am basically broke, I can not make the payments for the visual programming assets. I will only purchase them if I have to, but, if the Alphafund gets off the ground, the process for me developing the game will go much more faster and it may even be better. At the moment I am using the free version of UNIVERSE which is like uScript and Playmaker, but it is very limited on what it can do.
At the moment,
the build is so primitive that you can not even consider this a complete build. At the moment, there is one map, one terrain, and a whole bunch of static models. In no way can you consider that a build, so I decided to call it "The Negative Build: v-0.01"
Brilliant, eh?
As for the Youtube videos,
(Did you spot the pattern?)
I have two up, but due to revenue sharing, I can not embed the video on to IndieDB. Down below are two videos: Me showing off the current models and me basically blabbing on, and the other is me raging at my terrible texture skills and why all my models at the moment are just... Simple colors.
Links:
Ground Dweller: The Negative Build (Video)
THIS IS WHY I DONT USE BETTER TEXTURES (Video)
Donate! Only $1! Support the development!
By the way, who wants a broken headset?