Donations
Today, you can donate at Paypal for $1. Enter your IndieDB username or Email address and I will make you a customized sprite for the demo! Not enough? I will enter down your IndieDB username and you will receive the full game free when it is released! (Game will be ~$5 when released).
All donations will go to the in-game assets and engine for the game. It will not cost too much, $200 at the most. It will mostly be the stuff that I am unable to model. The items will include debris, detailed monsters, and buildings. I should be able to do most of the basic things myself.
Game Details
The game's concept demo is hard underway at the moment. The character art is going great with 3 character bodies and 3 costumes/outfits for each body + one mech guy.
Character Details
Each character/body in the game will have a unique function. There name goes as follows: Wanderer, Maker, Seeker, and Follower. Wanderer will be your all-around balanced character. He has average health, average food consumption, and average materials used for building. The rest of the character's stats follow:
Wanderer: ~Health, ~Food, ~Materials
Maker: +Health, --Food, +Materials
Seeker: ++Health, +Food, ---Materials-
Follower (Donation Character?): +Health, ~Food, ++Materials
Mech (Donation Character?): +++Health, -Food, +Materials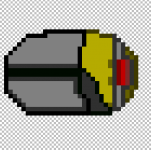 The donation characters will not be available in the demo unless I get a better engine than scratch, which is possible if I get the donations in. (May be Game Maker Pro or 3D Game Studio)
Gameplay Details
The gameplay will take on a deep and narrative story on the survivor's life being fully narrated like the game Bastion.
The objective is simple, survive. During the day you will be collecting resources and building, during the night you can sleep to avoid sandstorms, and in the dawn monsters will rise, but that is why you build. The buildings you create will help you fend off the army of monsters that come every morning, and that is the biggest thing in this game next to exploration.
In the concept demo, there will be very little to no exploration. In the expected full version, exploration will be the only way of survival. Resources around your home will deplete so you will have to look around the desert to look for more. There will be secrets, mysteries, and even bosses on your way.
Engines
As mentioned above, we are currently hunting for an engine. The concept demo is being developed on Scratch, but that will not give premium/donation users any benefits at all. The program I am currently hoping to use is either Game Maker or Game Studio
The "Extra Edition" of Game Studio is currently $108 CAD, while Game Maker Pro is $40 (USD?). If all donations fail, I will be resorting to Unity but the development time for Unity will be incredibly long for a 1 man project, and I don't really have enough time or resources to make everything from scratch on Unity. This is why I am really hoping for a Game Maker or Game Studio license.
Again, if possible, please donate and show your support! No part of the donations will be put into the developer's pocket, but into the game's build!
//DragYou