On this release I did some general improvements.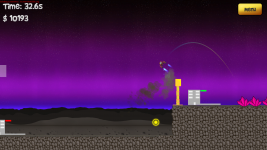 First I tried to improve a little the gameplay for new players. Now the ship automatic reduce the thrust if have no cargo to generate less torque. It makes small ships easily to control.
A movement indicator was created to help player to predict ship movement. It helps a lot to precise landing, correct your air brake angle or know how much thrust is needed to overcome large obstacles.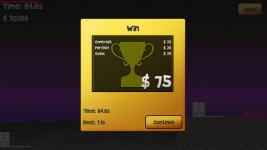 Almost every level was changed in this version by addition of more obstacles elements like "trees" and crystals. They exist for a long time but few levels have them. They are of 3 different types, deadly, explode and generate thrust, explode and give you money.
To give a little replay value for the levels and help those that need more money. Flying coins appear in already played for each 24h. You still must finish the contract to win money.
Talking about money. Now you gain more money if finish the level in a better time or execute without hard collisions (perfect).
The last addition to the game was the drop ship. Instead you start the game in level and simple disappear after complete. Now you are delivered by a drop ship and must return back when finished. It appear in almost every level after the 5.
Your save game is safe for this version. Multiplayer is probably broken in some levels. The game is fully playable with joypad. Have fun.