Today I'd like to talk a little bit about the art design of Fulmination as well as some features, release date and a little on the music.

Art Style
Over the last day or so I've spent a large amount of time overhauling the graphics of the game. During the time the graphics style has shifted from a arcade-y still array of coloured lines, which were nice but as I continued to adjust the sprites and colour settings, the art style of the game took on a much bolder, simplified look. The left image is the old style, where as the right is the games new style.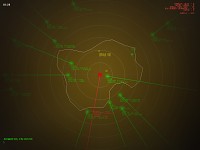 The main differences include a much darker background with the colour being focused on the actual entities that are important to gameplay. For instance, the enemy missiles contrast greatly and actually has more reference to their origin. Your missiles are red, the colour of the Soviets, whereas the American missiles are blue. This is more visually appealing and easier on the eyes, as green has a tendency of looking strange against orange. The darkness will be tweaked but the final game will look a lot more like the second image.
Music
The main theme for Fulmination is "For The Fallen" by Kevin MacLeod. Below you can listen to the music. This will play on the main menu but not during gameplay.

Fulmination - For The Fallen - Indie DB
Features
Let's talk features!
- Fulmination will support the same update system as Eight Days in Convoke which has proven to be a very easy and effective way t implement fixes and content updates.
-The game will have in depth statistics tracking including accuracy, kills, ect. It will also likely have a rank system which will play a key role in the unlocking of levels and content.
-An achievement system will be implemented in the form of cold war-era photos.
Release Date
"Fulmination" is anticipated for a Late June Release Date.
Thanks for reading, and please remember to follow "Fulmination" if you are interested!