In the next few hours, Eight Days in Convoke v3.11 should belive and available for download. Below is a list of changes and new features in this version.
-New auto-updater application. This allows you as the player to quickly and easily download the latest version of Eight Days in Convoke. When a new release is available, a message will appear at launch asking if the player would like to download the new version. If the player clicks yes, the game will close and the updater will launch. This program will automatically download the verified archive from the SwanActive/StormGate server and extract it, replacing the original Eight Days in Convoke executable with the new one. Updates aren't mandatory, but they are free and will include more levels, content and bug fixes. I can also use this system to roll out free DLC for the game, such as level packs.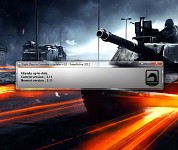 -Fixed old soundtrack not playing. This was a weird one, I just ended up replacing the new theme with the old one, a proper fix will follow soon.
-Fixed lockup when UFO lands with no fuel. Didn't notice this one until recently, it's all fixed now.
-Tweaked start up for more stability.
-Nicer looking loading screen. More professional and much prettier.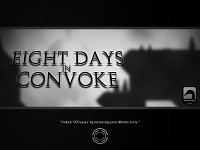 -Under-the-bonnet code changes. Not listing all of them, just little things that make the code both easier to read and more efficient.
-Tweaked UFO hit box.
-New intro video. Correct resolution for the windowed game so the video doesn't contain strange artefacts on playback through Windows 7
machines.
-Other minor changes...
In other news I found a bit of gameplay for Eight Days in Convoke on YouTube. It's not really a review or much, makes me think the game is harder than intended.
Thanks for reading, the game will notify you when it's time to patch. There will be new content, levels and bug fixes soon all available for free. Tell me what you think in the comments section below.
If you haven't already bought Eight Days in Convoke, why not now? It's only £0.99 or your local equivalent.