Pitch My Game
First of all, you must know that our team is at Pitch my Game in Paris, 28th June, in order to talk about Ecotone. A 15 min presentation of our project is scheduled and, if everything goes well, a little demo too. We expect some feedback.
Come and meet us at 7 PM here:
ISART Digital
2 Rue de la Roquette
Passage du cheval Blanc
Paris 11.
IndieGogo
Our campaign is making slow progress. There are about 30 days before the end of the campaign and we are a long from our goal (only 10%). It will be hard. Even if we had some nice press articles from different websites, the most important ones, seem to ignore us. Indeed, we understand that they don't wish to write an article for our crowdfunding campaign, launched by an unknown team. Well too bad, it could help us…
In fact, the IndieGogo campaign seems efficient thank to word of mouth and Wefrag members (some of them are very generous) and we want to thank them! For those who want to help us, the campaign is still on IndieGogo. Don't forget: if you don't want to give some money you could help us by dessiminate the Indiegogo link. We have some few days before the end of the campaign so we're counting on you.
Presse
Here websites I referred a moment ago, and the articles about Ecotone:
English:
Indie game mag
The indie mine
French :
Jeuxvideo.com
Game side story
Indius
Factornews
Game sphère
Jeuxvideo24
Jeuxcapt
Some cool blogs. And even a polish website! We were given a great fan art from Ztnarf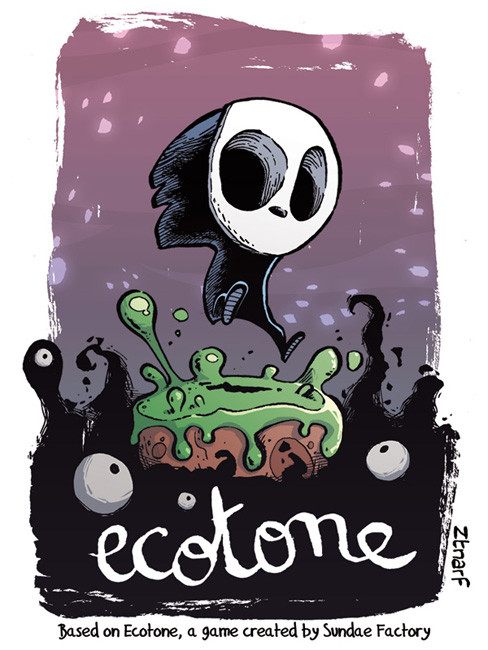 Music Maestro !
About the music part, we propose you the first music track of our game: it concerns the World 1. I'll let Aleksi, the author to talk about this music:
"It's hard to be a compositor, most of all if it's about video game. The process depends of the project, and when you arrive in the production.
For Ecotone, I was here since the beginning of the project. That gives me a free inspiration to create the sound. Of course, it takes more time and more investment because you follow the project from the beginning to the end, but the result is better (and more interesting for my part).
In this case, before I touch a music note, I saw some artworks and the first version of the game. After testing the first levels, I had a clearer idea about the atmosphere I wanted to create. Finally, the result is different about what I imagined but it still remains in the Ecotone's universe. The difficulty is that your music must go perfectly with the universe of the game while you want to keep a part of your artistic style.
For the first piece of music, I launched a "pad" sound, and I improvised on the piano, continued with chords. From then, came the basis, and I added electro elements, melodies etc. Generally, I use to work my music by producing an artwork from A to Z and when the developers agree, I finalize the composition for a better homogeneity. It was the case for Ecotone."
Enjoy the music: