Hey everyone!! We just wanted to chime in and update you on what we have going on. A couple weeks ago, we posted a couple pictures showcasing the beginnings of our map for a place we call Solace. This week, the map has taken a step further!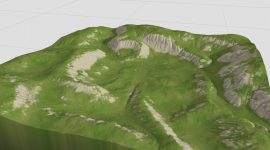 As you can see, the basics is pretty much done and it is now ready to be plugged into UDK for further development!! Also this week, we have added another member to our team!
KilluH has joined us to help out as our concept artist. We are looking forward to what he has to offer. DragonSage has been busy writing out the lore and history for the different tribes, making sure it all fits together and relative to our world. For the rest of us, we are still plugging away, trying to make sure that all the behind-the-scenes details are where we want them.
We would also like to take this time to thank everyone who has shown interest in our game. It's motivating to know there is an interest in what we are working on. Thank you.