After thinking, I have figured that I will probably re-make De_Void. I do have some small progress on this re-make already, and it will also not be called De_Void when I begin to do some serious working on it. Here is a screenshot from one of the current test rooms: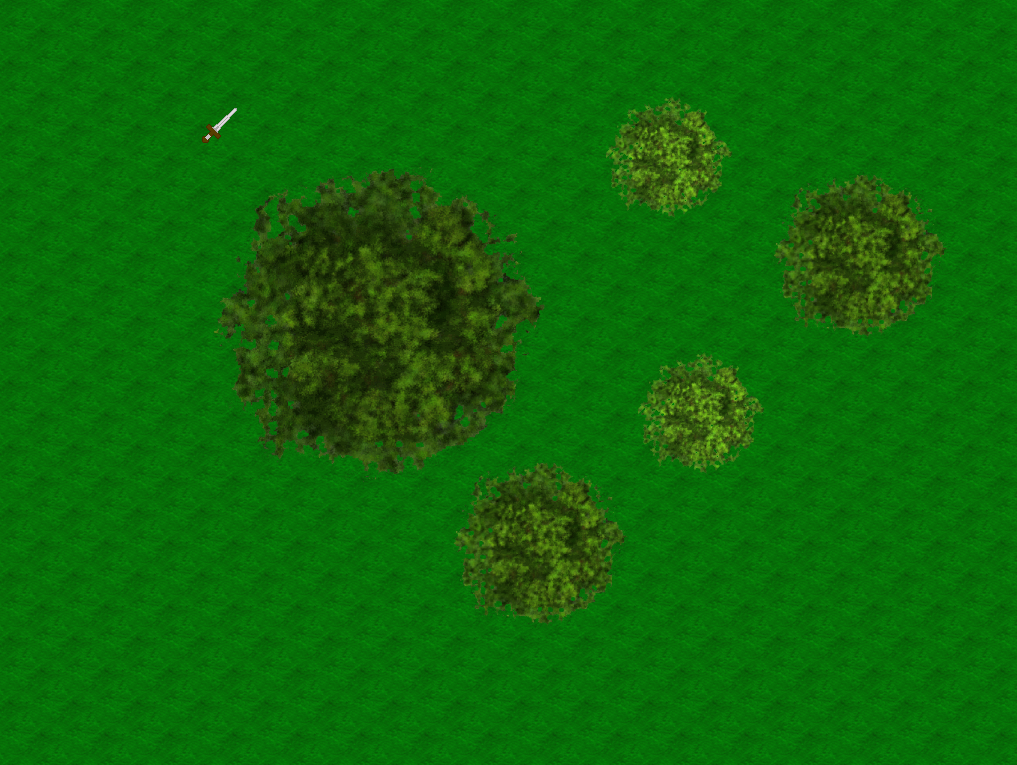 As you should be able to see, the new version is now in an over-head view, this will reduce the amount of time required too create new graphics, makes the collision smoother and more realistic and will likely look much better. Instead of firing action icons the player will now actually swing and stab their sword more realistically.
Although the trees are credited too Ravenmonkey of the YoYo Games forums and the grass was made by the very generous Purehero of Minecraft Forums I have succeeded in making my art skills a little bit better, as seen from the sword on the ground, which I made. All the bad graphics from the original De_Void were done by me, hopefully this time the graphics will be much better.
I will attempt to create a more flexible, better looking and more complex inventory that might be able to handle crafting and storage such as chests or bags. The wounds system will be more realistic, but also toned down, you will no longer get cuts or bruises but bleeding and status effects such as sepsis and infections.
De_Void will be both more and less survival at the same time, you will need to stop bleeding with bandages and cure sepsis and infections with antibiotics and herbs but you will also be able to lever up and craft a large selection of weapons and tools, both ranged and melee weapons available.
So basically, I want to re-make and improve De_Void to be better in pretty much everything. And no more blurry, crappy looking graphics because the screen resolution has been increased to 1024x768 in comparison to De_Void's current resolution 640x480. I might even increase it to 1280x768 if I feel it is necessary.
EDIT: (More progress!)
Here is some progress on the new De_Void, which I have decided to call Ethernia, don't ask me what it means, because I don't know. One the coolest features I have implemented is the main menu.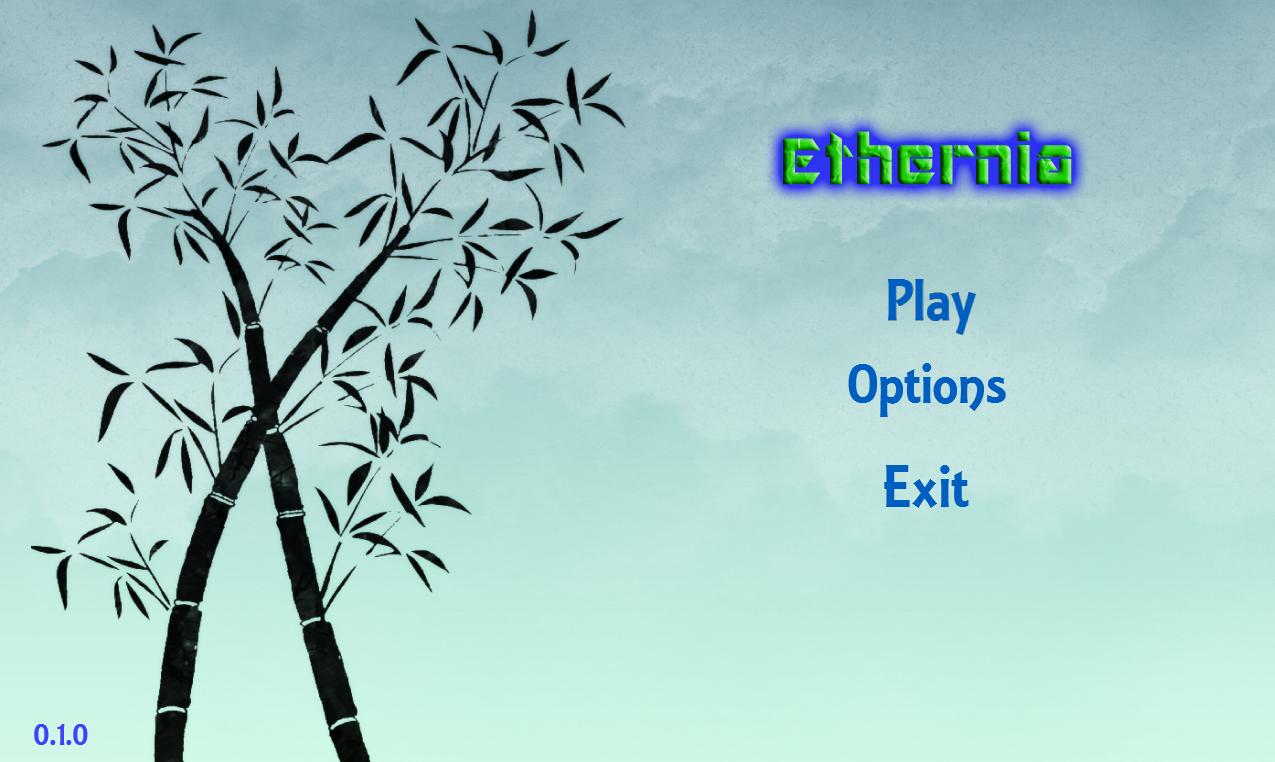 Here is another screenshot of the actual game: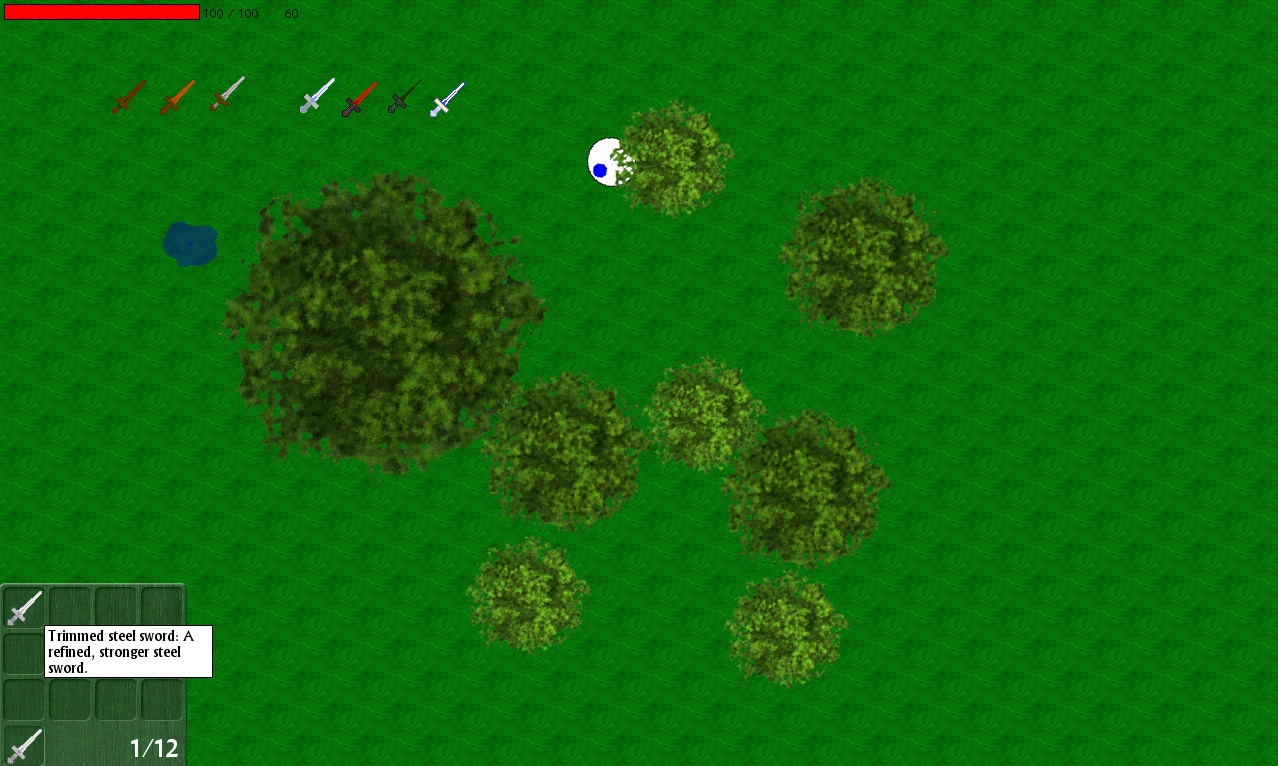 From what you can see, the inventory, health and player have been added, the player sprite is a placeholder until I can be bothered making or finding one (Its the ugly white-blue thing). The Inventory has a description for each item, which is call. A you can not see yet is the new occlusion system, which also stops all npc behaviour once they are too far away, normal De_Void did this, but not as efficiently. I did a stress test with about 200 AI's on the screen at once, and got a nice, stable 60 frames per second.
Here is a screenshot thats shows off some of the status effects (There are more!):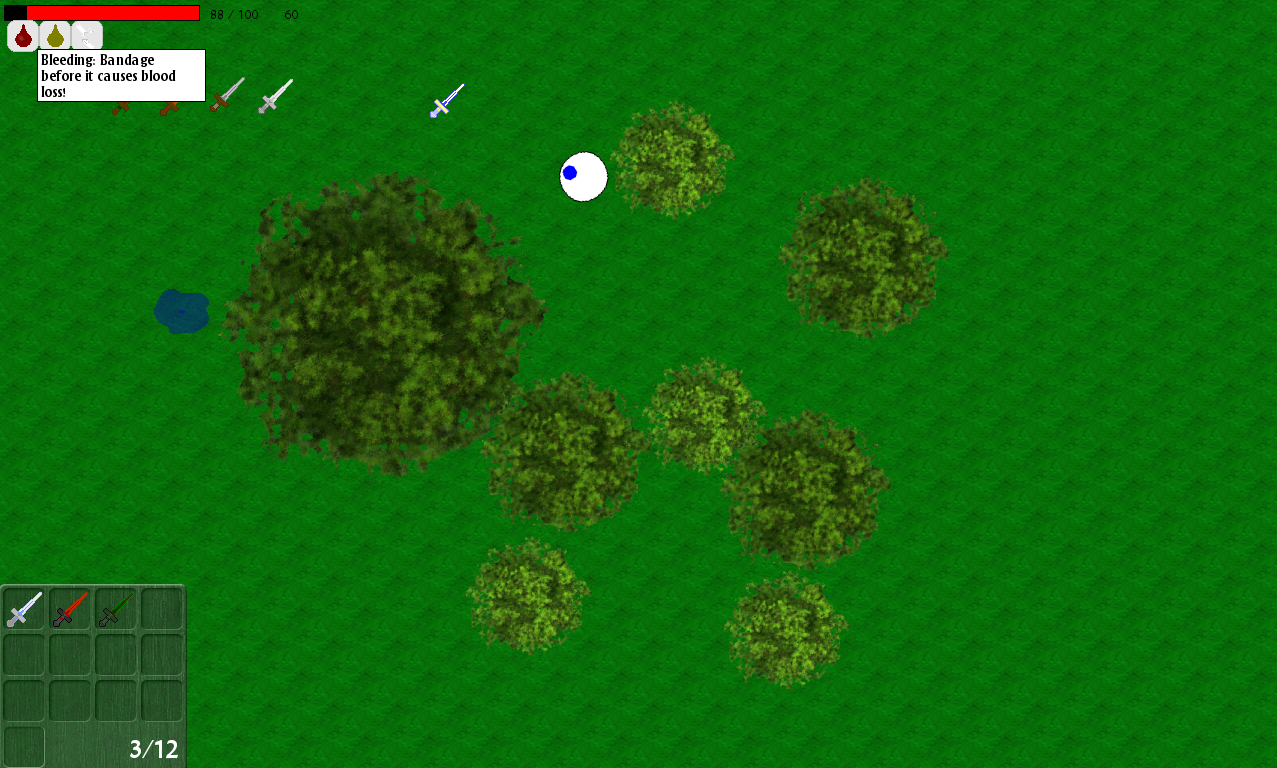 The status effects also have descriptions on mouse-over. The current status effects I have added are bleeding, blood loss, infection, sepsis, fracture and shock. Although the only status effects you see in this shot are bleeding, infection and fracture.
Thats all for now, and if anyone wonders what the weird blue thing is, its good ol' mr slime! Although he is also mainly a placeholder, which I will improve later on, and he can't attack yet, he can only follow and path-find the players position.