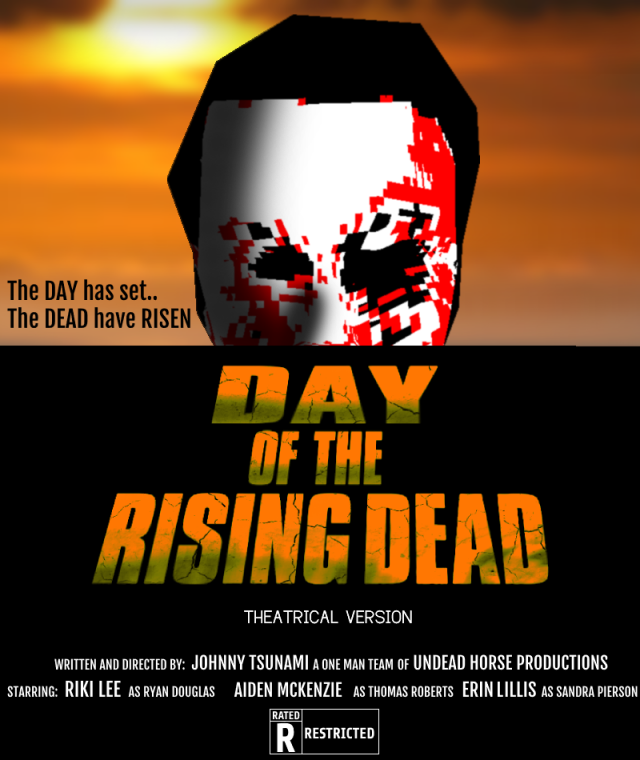 A small scale outbreak is occurring in a small countryside town. Still discovering the nature of the rising dead, 3 people take shelter in a radio station on the outskirts of town abandoned by the original owner. They shut off power to the elevator and use the fire escape to get to and from the supplies they need, as well as to people who need their help who they find on through radio contact. Discover the plague from their perspective and get to the bottom of it before the center of disease tries to wipe them out in 3 days.
What sets Day of the Rising Dead apart from the already saturated zombie games market?

We're bringing zombies back to the roots with the original vision from the zombie master George A Romero. Far too long have they swayed into obscure directions from runners, climbers, and jumpers. We're sticking to the formula of them being slow and dumb but dangerous when surrounded or in a group. Gameplay systems will secure that formula.
Most upcoming and past modern zombie games fall into 2 categories.
1-have a heavy emphasis on scavenging materials for survival, crafting, and securing shelter. Which shifts the gameplay into the player spending most of his/her time chopping trees or rummaging through trash to cater to the upkeep of a barrage of mandatory mini in game systems at consequence.
2-Playing as a near unstoppable super human with a large cache of guns and ammo at their disposal to shoot anything that moves with pin point accuracy with super stamina and no humanity to other life. Despite probably having no prior knowledge of how a firearm works let alone hold one. In a jam? Just blast your way out.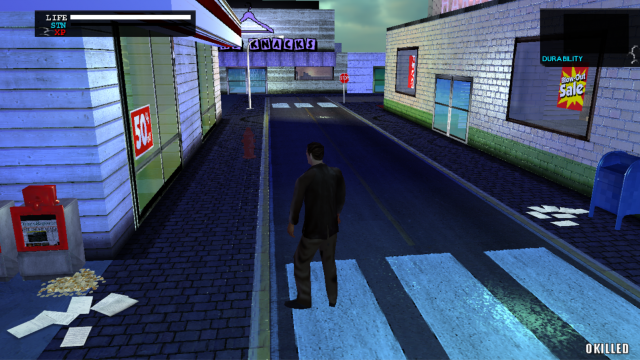 Here at Undead Horse Productions, we're aiming to bring you a truly cinematic experience with characters you will feel invested in. Set in the golden age of horror movies in the 1980s. With correct technology, styles, and a hauntingly nostalgic soundtrack that will bring you back in time. Along with a retro graphic style similar to PS1/PS2. Simple geometry and lower poly than today's standards but paired with medium to high resolution textures. It's style is an artistic one of choice we believe would fit the games universe nicely. I'm a firm believer that great graphics doesn't exactly mean a great game. Theres other aspects to it.
Features
The key features of this game are molded around bringing zombies back to the roots.
Stealth -
Stealh plays a role in the game but is ultimately up to the player. It can be more of a situational use but it definitely has its perks. Not using it but it will make it more challenging. There will be traps set for those who choose to run through everything. For instance you will attract enemies that wouldn't come out otherwise.
Each enemy has vision and hearing and different things will affect it. If the player runs around the map he puts out a bigger sound radius that will attract enemies. Walking produces a smaller sound radius. There is also a sneak walk that produces no sound radius. Each weapon has its own sound mechanics apon impact of enemies. Opening a door while holding the run button will let you get in quicker but at a cost of a louder sound radius.

Stamina (STN) -
The stamina system is a vital part of the game. The stamina bar refills rather quickly but depletes just the same. A number of actions deplete your stamina. Running, jumping, attacking, and being grappled by an enemy. Walking does not deplete stamina and running is not allowed if your stamina is empty. Attacking or climbing while your stamina is empty will not affect stats, but the action will be delayed a bit.
Being grappled while your stamina is empty will result in the player failing to get away. This system is to make zombie groups more dangerous when the player gets surrounded. Otherwise it will be a quick time, thumbstick puzzle, or wiggle to get away.
Weapons -
In Day of the Rising dead, guns will be rare besides a few campaign missions that feature them. We're going for a more melee based combat. The weapons you find will be everyday items you find in shops and along the street. You will be able to use almost anything as a weapon, even if it's not the best choice. Choose wisely because inventory space is severely limited.
Weapons also each have their own durability before being broken and unusable. Which you are able to see in the games Heads Up Display.
Cinematic Cutscenes with Full Voice Acting -
Each character is brought to life with our amazingly talented voice staff. Each cutscene is carefully crafted using real film techniques inspired and based off popular 80's horror movies with devotion like no other.

Food and Drinks -
There will be a lot of tasty foods to try out in the game. Food is only for refilling your health. While your stamina refills rather quickly, drinks will fill it instantaneous. Food can be stored in the safehouse. However it can also become rotten. Eating rotten food will cause the main character to become sick and vomit.
RPG elements -
The rpg elements are rather simple. They apply to Endurance, Strength, Agility.
Next we will be taking a deeper look at the characters and the setting of the game.