Alpha 8 is our first update since we got on to indieDB and its a pretty big one, bring to new additions: Settings page and How-To Page. These to pages are pretty important in helping improving the player experience from when they first start the game for the first time. Here is more about each addition.
Settings page: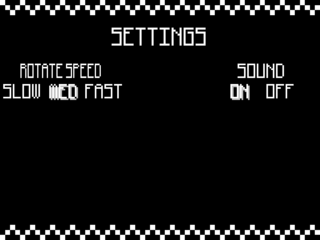 The Settings page is the most important out of the two as it allows the player to configure the game the way they want so it is a better experience for them. Right now there isn't much in the way of settings, just Rotation Speed (Slow, Medium, Fast), and Sound (On, Off), but as new features are added so will new settings as seen fit.
How-To Page:
The How-To page is mostly for beginners that want to learn the mechanics and sprites of the game before they play. This page will probably go under many revisions as new features are added in order to keep up-to-date and give new players all the information they need.
So that pretty much makes up Alpha 8. The next update Alpha 9 will be including difficulties (a much requested feature by my Alpha testers), and maybe more settings!
Thank You,
Zak Kennedy