If you know anything about match 3 games it's that you match up like pieces to get points. But in Chesster, the points you earn buy you your way forward. So it isn't your score that matters as much as how long you can survive.
In Chesster, the player has to survive a certain amount of turns per level. While all the point values are still being tweaked, right now the first level, the dungeon, has you surviving 10 turns.
In each turn, the player makes three moves. Once a piece is moved, you can't move it back (unless you still have your finger on it, playground rule!). After your three moves, combinations are totaled and you have your turn score. Here's where the survival part comes in. Every level has a point demand you must fulfill each turn. The dungeon demands 100 points every turn from your turn score, and if you can't pay up, it goes into your score total which where all your remainder points go after the level demand.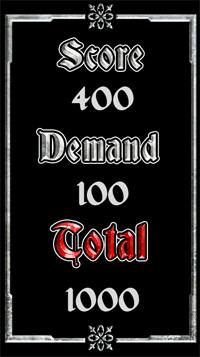 Now what happens if you don't have anything left in your score total? Bad things I'm afraid...
As you progress through the game, you will have to survive more turns with higher demands. This is the basic mechanic of Chesster!