RELEASE NOTES
Release 1 Week 20, August 29th 2011
---
Introduction
A new remote control allows you to watch your ship fly by, or even play "2-player" by controlling a second starship! Also there's a bunch of bug fixes, but nobody cares about those...

For anyone who had trouble with a low-res visor interface in the GeForce 7600 series, there's also an option to disable mipmapping in the visor, which should resolve this issue.Download Page

What's New
- Added remote control ability to control up to two ships simultaneously
- Added mipmapping option to graphics menu (may fix low-res visor glitch)
- Added "audio" option in the "OPTIONS" menu
- Added "sound volume" option to "audio"
- Added "music volume" option to "audio"
- Fixed perfect mass could get screwed up if you altered a ship while moving
- Fixed 2x2x2 entities displaying as 1x1x1
- Fixed loading entities would still remember old weapon locations
- Fixed numpad keys not working in customc controls
- Fixed engine sound from playing even when muted
- Fixed tile blocks in radial menu being spelled, "TUING"
- Improved internal code for axis's, ships from before W20 will appear "mirrored"
- Improved "hide hud" so that entire interface is hidden
- Improved some thruster backend
- Removed "SOUND" option in tab menu
---
Remote Control
You can now set remote controls on up to two entities to fly the entities without being inside of them! This is mostly useful for video making. Here's a couple tips though 1) Controls_P2.xml contains the controls for the second controller , 2) flying an entity into the camera (or just enabling camera control while inside an entity) allows for custom 3rd person angles, and 3) having a second player try to run away as a second ship is entertaining.

---
Hud Hide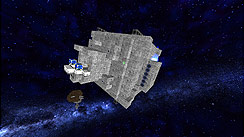 The hud now can be hidden entirely so that nothing is shown but the game itself.
---
Miscellaneous bug fixes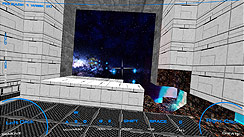 Between sounds playing when they weren't supposed to and mass getting messed up when you fire parts off your ship, a bunch of bugs were fixed in this update
---
Requirements
Hardware:
Windows PC (XP/Vista/Win7)
Software:
Microsoft XNA Framework Framework Redistributable 3.1
Microsoft .NET Framework 3.5 SP1
DirectX 9.0c or Better
Installing
Unzip the contents of the downloaded zip and run BlockadeRunner.exe. It may take a moment for the game to start up the first time as it's uncompressing the space skybox textures.

Updating
Run wyupdate.exe in the Blockade Runner folder.

Uninstalling
Simply delete the Blockade Runner folder.

Activating
After purchasing Blockade Runner, use the username and password you used to register to unlock the game! Please let us know if you encounter any problems with the online activation!

Known Issues
Legacy ATI videocards are not supported with this version of Blockade Runner. The game will display vertical streaks if this is an issue.
GeForce 7300 series is not supported in Blockade Runner
GeForce 7600 series may have display issues (development thread)
Troubleshooting
Please visit the troubleshooting thread and make a post there if you can't find an answer to your question.

On the Horizon
Several things are at the top of our list for features in the coming weeks (in no particular order):
Ship Editor & Tools
Improved thruster controls
Power systems
Improved Texture system
Gravity plating
Crew
Zack Harris, Shaders
Aaron Harris, Creative Director
Nathaniel Harris, Programming Lead
Micah Harris, Sound / Art Lead
Gabriel Harris, Programming Assist.
Terah Harris, Art
"Nibiru Rising" provided by Samuel "SMH" Huse. Listen to his other works here!

Thank you!
Enjoy the update and don't forget to check back often to keep up with the new fun!