My problem lies with an age old problem I always had:
Newly added maps display in a strange way, for example: Alderaan from the Conversion Pack is labeled as AB1%s_%s
This is the same with every other Map except for the vanilla ones. It doesn't matter what mod, what map. It's always the same problem. I tried looking for some fixes, but there are non I could find, that would help me. I thought this was normal, but when I watched a YouTube video about mods, they all looked fine with the real map name. The maps themselves work just fine, but it's a chore to guess what map ST7%s_%s is or what map SpaA%s_%s is.
As stated above, it's an age old problem for me. It has always been that way for me. I uninstalled and reinstalled the game over a decade now and mods have always looked that way for me.
Some technical info: I live in Germany and I thus have the Game in German in CD format. I don't have Steam. I run this exact disk in Windows XP and now on Windows 8.1. It's been the same for both.
I don't understand why I'm cursed with this. I'll have to assume it's because my game is in German, which I can do nothing about. I searched for an English patch, since I prefer this language anyway, but I found non. Searches only wound up the new EA Star Wars Battlefront 2 and Steam fixes.
If you have any suggestions or insights, I'd highly appreciate it.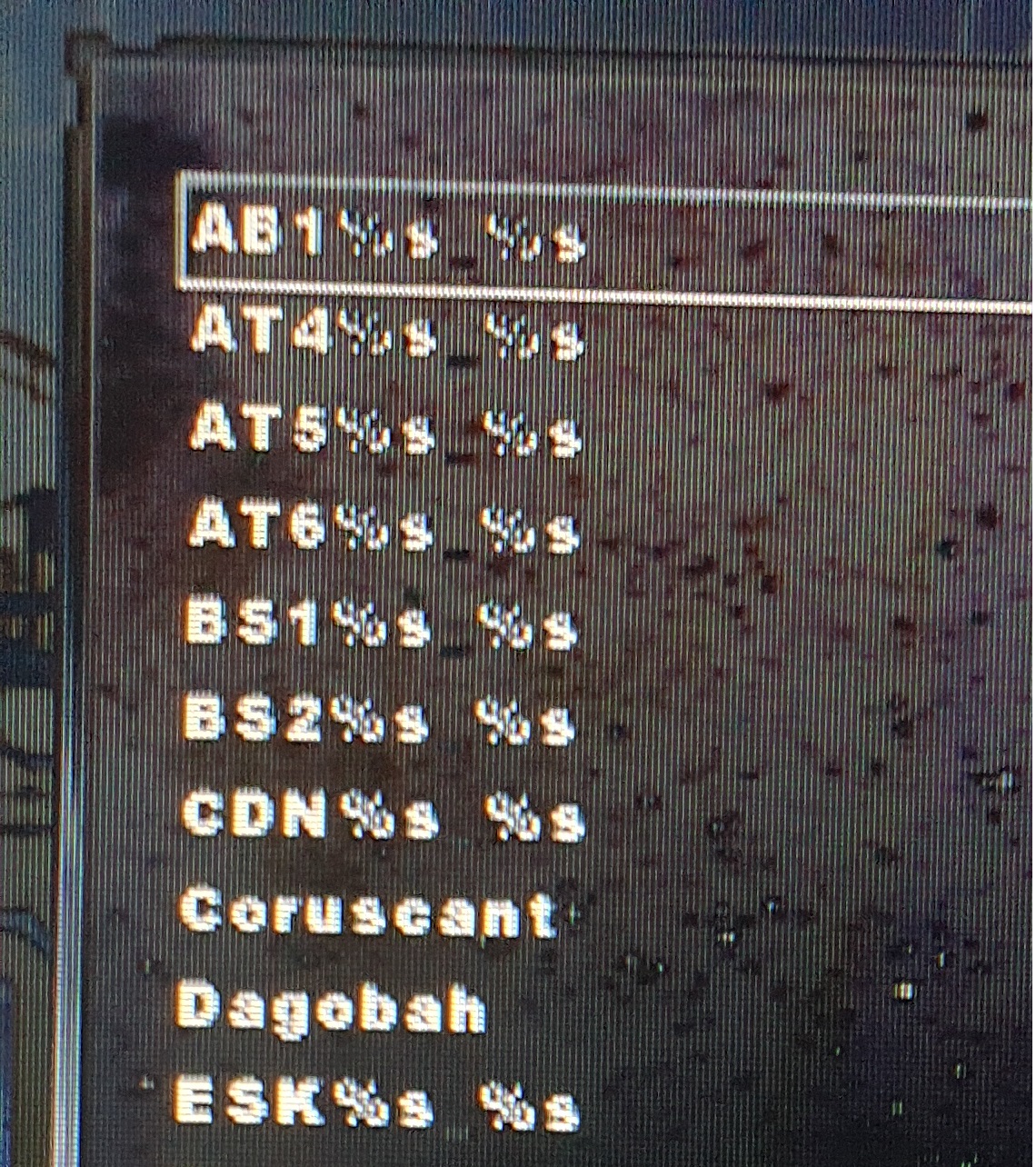 Solution Found!
I have found the solution for my problem. Turns out all I had to do was to install the "official patch 1.1". This fixes all sorts of problems I ran into all those years. However after installing the patch I had a new problem: The game didn't recognize my CD anymore. I made some research and found out that those patches were regional and I installed the wrong region patch, thus the game searching for a CD with that specific regional code. So make sure to download the right 1.1 patch and save yourself the struggle I had to go through reinstalling the game multiple times till it all finally worked. (further info on that: Simply going to Lucasarts.com, searching for the patch and installing one of the 3 options there didn't do the trick for me -> Support.starwars.com One patch was wrong and the other 2 simply stated that my version can't be patched. I had to google "Star Wars Battlefront 2 official Patch 1.1 German" to find a specific patch 1.1 for German DVDs/CDs and only then did it work. Btw the search directed me to this beautiful website Moddb. Big thanks to the moderators for keeping such an amazing library, you saved my day)
I guess nobody else has that problem, since the new CDs came with Version 1.1. My CD is as old as the game itself and I guess the unofficial Patch 1.3 assumes that 1.1 is installed from the get go. It fixed the custom map names, custom era names, custom gamemode names and the description of the fake console (which is very useful to finally know what all those options do). It fixed the Remaster Mods own Remaster Option panel in which every option was simply labeled [Null]. It fixed custom weapon names, custom unit names and all the such. It significantly improved my Battlefront 2 experience. Now it looks all slick and fine, not like a glitchy mess.
Edited by: ThisIsChris