Hey all, we're a small game dev studio, working currently on a post-apocalyptic civilization builder, which we do plan to release on Steam this year.

Here's a playable prototype you can try out :
Simpocalypse - prototype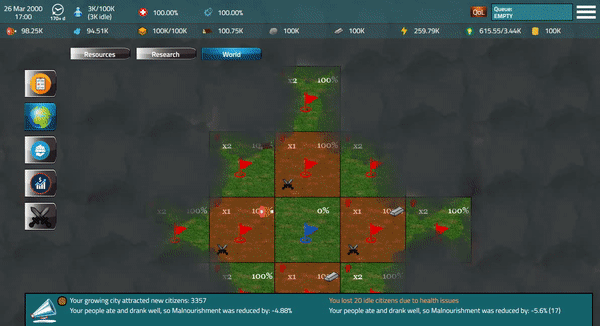 Any feedback or specific features that you think that should need urgent corrections/improvements would be great to hear, as well as your general playing experience with playing this prototype. Much appreciated!



Thanks for taking a look,
Rox


...I forgot to mention that the prototype is currently best playable on desktop, as it is wasn't adjusted for the mobile in this phase, but will be in some further stages.

Here's the roadmap/Main planned features for Simpocalypse:
More battle mechanics, active skills, passive/idle features, more tank customizability
Random events (catastrophes, diplomacy/war/economic/world goals, zombie/virus outbreaks...)
Citizen enhancements (specialization in jobs like army, implants...)
Interesting mini-prestiges such as re-education of citizens, "transcending to a higher tech age", "improving infrastructure" etc.
A much bigger research tree and automation options
"Time-lapse" feature broadly extended
A full UI, UX and graphics overhaul
Various game endings/routes with Diplomacy, Economic, War play routes
Various modes/Difficulties (i.e. No AI attacks might benefit a more idle player)
Randomized game seeding & sharing so you and others can replay potential cool game seeds with interesting AI choices and random events
Procedural generation of worlds, random events, giving you a ton of replayability!
Potential late game content, going through current age and evolving into a space-faring civilization (i.e. Alien attacks/defending..)
Mobile support
Randomized game seeding & sharing so you and others can 192.168.100.1 192.168.1.1 replay potential cool game seeds with interesting AI choices and random events
Edited by: eliotradia
Pre-alpha version is out and is still available to test out. The game might close down/limit in the future for some local feature testing, but you can still try it out here:
GG - Simpocalpyse

In case you like the concept of the game, make sure to Wishlist it on: Steam-Simpocalypse ,as this would be much appreciated to get better visibility on the dates of game release and further!


Thanks everyone, and feel free to share your thoughts about the game below or join us on Discord …to have your say into how the game evolves further