Hi there. Long time no post.
So, let's get right down to the good news. The SCP team is currently ramping up to deliver the long-overdue next release of the FS2_Open engine. Versioned 3.6.14, this release brings a number of features that will improve performance and configurability.
As mentioned previously, taylor has provided us with a revamp of the core graphics engine, giving us a lot more speed, as well as a good, stable post-processing pipeline. Swifty has been busy crafting a new HUD system, allowing for easier configurability and higher-quality rendering. Finally, yr hmble crrspndnt has added support for a technology developed by Timothy Lottes at NVidia1, called Fast Approximate AntiAliasing (Or FXAA for short). Before all you ATi users look sad, let me just quickly say that this works just as well on Radeons as it does on GeForces. What this does is an antialiasing pass as part of the post-processing ... uhh ... process. This is a bit faster than hardware antialiasing, and crucially, it is compatible with our post-processing stage.
The results, I think, speak for themselves.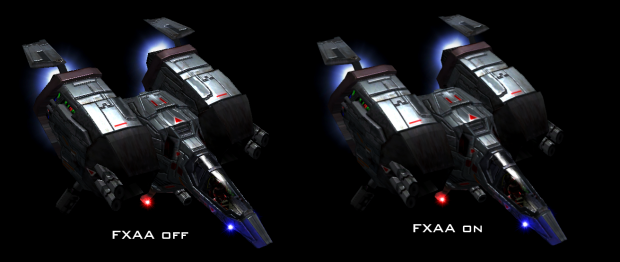 While we do not have a fixed release date for 3.6.14 yet, the release candidate stage should begin soon. Meanwhile, you can check out these effects by trying one of the nightly builds produced by the SCP team from here: Hard-light.net
Until the next time, this is The E. Have a nice, antialiased day.