The Manager

Now, earlier the other week, I came up with an idea of a little manager that lets you know when your clan is going to be in a fight and also can act as a launcher if you'd prefer not to open the game straight away from Steam.
I was testing the notification system a few days ago and here's a little sneak peek of what it may or may not look like :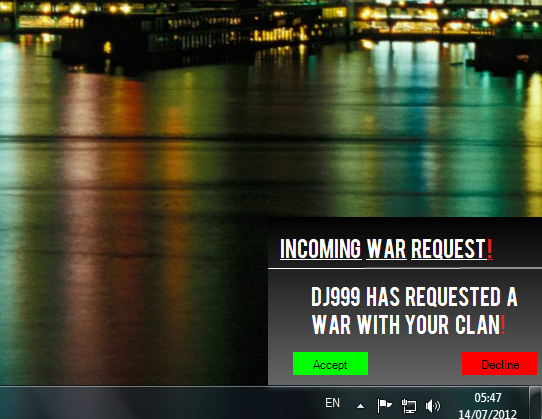 Personally, I'm not too sure on the design, but hey it works. We hope to fully drill this into the mod so this little notification can also be available in game too. But yeah, the manager will more than likely work off your iInteractive account. (No, you don't need an account to play the mod, just to use the manager).
We hope to give this said "Manager" a whole community interface, but these are just hopes. If we do go along with this idea, the notification system will be released on launch and if the mod takes off we will add a community system where it will be easier to manage clans and team battles on servers.
(Don't forget, due to the time it takes ModDB to authorize this news, it has already been posted over at Infinity Interactive.)