Greetings, everyone!
Yes, the mod is still alive and well - it's just hibernating for the winter as the staff struggles through the trials and tribulations of college and university work. Fortunately, things will get back into a good state of production this summer, and you can look forward to much more great content from The Peloponnesian Wars!
Anyway, the point of this update is to let you know that the Moddb Mod of the Year awards are upon us, and we would love to have your vote. The polls won't be open forever, so please take a moment to scroll back up the page and give us a hand.
This mod would not exist without the fans - it currently has nearly 950 downloads and well over 13,000 pageviews! Thanks for all of your support!
To show that some progress has in fact been made, here's a teaser of more to come... the Athens faction.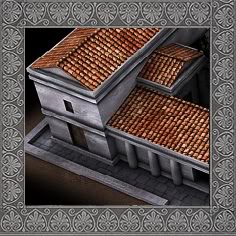 Can you guess which building that is? No cheating!
Thanks for your time (and votes!) and continued support everyone. Have a great holiday season, and stay tuned for more news from us.
Cheers,
Mike, and the Peloponnesian Wars team