Much progress has been made in bringing Goldmoor to life, so much in fact that it would not fit into this news post. Therefore, I will just focus on the major developments and leave the smaller stuff for later.
All landscape objects have been completed, region generated, and detailing claims opened. The purpose of the detailing claims is to make each inch of Goldmoor interesting and unique, not just a computer generated land of boring. I have added several new images of Goldmoor to our gallery here, make sure to check them out.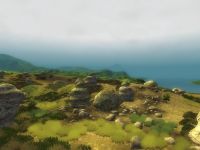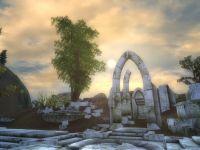 The cities of Goldmoor are also progressing well.
Rihad, the first city players will see when crossing the border, is nearly completed. Rihad was founded by the famous Swordsinger Frandar Hunding. Rihad is unique in that it is a fiercely traditional Forebear city. They consider the empire a powerful ally, but by no means intend to Cyrodiify like Taneth has done. Raha Treigo, a dictator-general who rose to power after the Camoran Usurper defeated the city, rules the city of Rihad.The city is defined by its fort-like layout, with many tight streets and courtyards. Parts of the city are separated by gates and walls, making it a very efficiently defensible fortress. at 15 cells, Rihad is significantly larger then an average Oblivion city.
Check out this video overview of Rihad.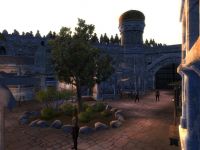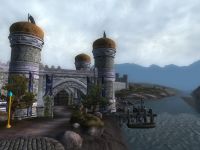 Taneth is also well on its way to completion. It is in fact available for claiming, so if you'd like to make this magnificent city a reality please head over to our forum. Taneth is ruled by Duchess Clavilla, a staunch Imperial supporter who denounces all traditional Redguard ways. Though the exact nature of Taneth's founding is unknown, most agree that it was founded by the child of the rulers of Rihad and Hegathe and named Tanyedt. After the Camoran Usurper destroyed Tanyedt in the mid 3rd Era, the Empire helped to rebuild it and made the city, now called Taneth, into an Imperial Duchy.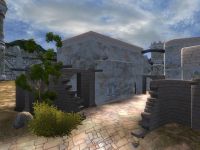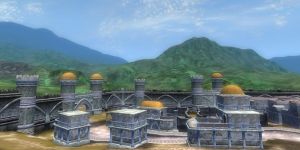 The rest of the project is also making great progress. Most plants and trees have already been completed for the next region, the Helkori Plains. Interiors have been made for the Middle Class Goldmoor set, as has interior clutter and decoration. I've added some pictures of all that to our gallery as well.
I hope that this post has done a sufficient job of showing the progress of the mod. Check out our thread on the official Bethesda forum for more juicy screenshots and information. Our new Blog may also be of interest as it provides info about the insides of the mod as well as progress updates.
on behalf of Tamriel Rebuilt,
Lady Nerevar