The Zeppelin usually belongs to the famous Trader Triplets but now it can be yours as well. Being built either by the Traders or in trade buildings such as bazaars, the Zeppelin serves not only as trade unit but also as mobile resource collection point. In addition to that, it can transport 10 units over land, water, mountains, enemy walls, volcanoes, and pretty much everywhere except of outer space. Its high sight range can be an essential boon to whatever you have planned. The Zeppelin has no weapons on board and therefore cannot fight.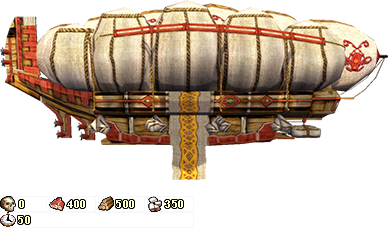 ---
The War blimp is the Dragon Clan's mightiest airship. Produced in the Engineer, the War blimp it fires large rockets and is an excellent weapon for air strikes against any form of enemy. No mountain is high enough, no valley is low enough, no river is wide enough to keep them from getting to your enemy.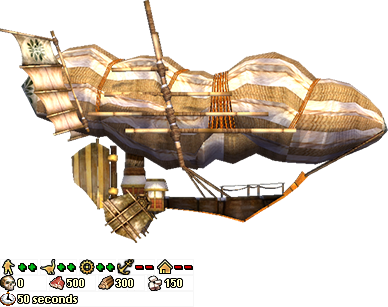 ---
Produced in the Engineer, the Battle blimp is the lighter, simpler version of the War blimp. They are slow but steady and can be used for scouting and launching attacks from above. Their mortar-like projectiles are good against any kind of enemy.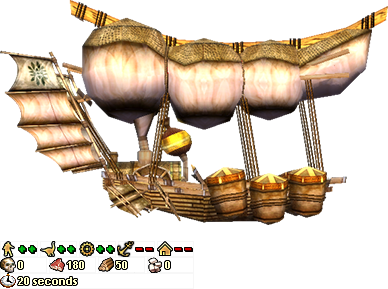 ---
The Apache is a modified version of the Stinger. The steam engine that provided its massive attack frequency was diverted to the rotor blades, allowing it to climb above the ground effect height and rise to an altitude of approximately 20 meters. It is a fast flying unit, effective against infantry, animals and vehicles. You can produce it on the Carrier and in the Garage.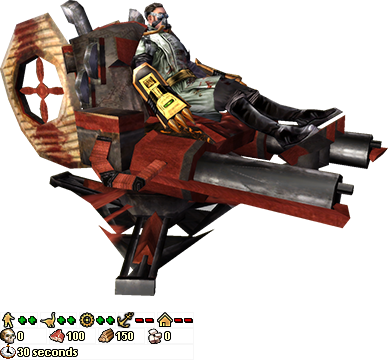 ---
Even though it is rather hard, Pteranodons can be tamed and will even serve as flying mounts. They don't usually fight, but they'll gladly stay in place for the riding Archers to do their work striking from above, especially when striking infantry, animals or vehicles with deadly accuracy. They are produced in the Animal farms.