I have not yet given up on this. Before I die, I'm determined to finish this.
There's been many recent problems in my life, most involving health. However I still continue evolving my ideas, even with no team to back me anymore. I've taken a look at OMF again and what made it so fun, and yet simple. I will throw away the keys that are not needed, and stick with how OMF 2097 handled things. Punch, Kick, Jump, Move, and Crouch. Blocking will be handled the same classic way. There, however will be an extra button. It's purpose, easy access to HAR specific attacks. Think of SSB Melee/Brawl. You can still use moves the normal way, and is an option you can turn off.
I've came up with a few new designs, and uploaded one. Please bear with me, it's a rough draft of one of my favorite bots, Thorn.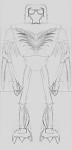 I also have a surprise for you watchers. Keep watching the Downloads section!
Moddb.com
We also have a forum now!
Currently looking for team members.