These updates are coming quite frequently now, that must be a good thing. I'm quite bad at writing these intros that smoothly transition into talking about the mod, so I'll just skip straight to it!
Rick has handed MIMP2 over to me after doing the art-pass to it. I'm currently going over it, fixing and tweaking scripting, modifying gameplay slightly and polishing graphics. While I'm at it I also work on optimizations, although that's been quite smooth thanks to how the level is designed. Overall, the second pass on this level has been very smooth indeed.
Since I'm on MIMP2 at the moment, Rick has started working on MIMP3, giving it a really cool art-pass. Apart from the obvious things like Combine machinery and decorations, he has done some really cool stuff with the underground caves. It was actually so cool that when I saw it for the first time I used the word "hella" spontaneously. I said to Rick : "This looks neat, Rick. This looks hella neat."
Rick has also figured out what combinations of buttons and sliders in 3D Studio Max generates "cinematic physics", or "animated explosions". According to him it's easy to do, so things will blow up in a much more impressive fashion from now on. For now, we have animated the gas station roof in MIMP2, although Rick urges me to have more explosive moments. We will see if we can come to an agreement on the explosions per minute ratio.
MIMP3 has undergone another playtesting session. The feedback has been quite uniform between testers, so it's easy to find areas to focus on. It also shows that problem areas are beginning to be ironed out, which is a relief.
Anyway, enough typing. Here are some screenshots (with some minor typing underneath)!
Here's a screenshot from MIMP3, after receiving the art-pass.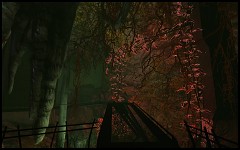 And here are two comparison screenshots from MIMP2.
Hope you've enjoyed the latest blabber and images, and that you'll continue following the mod!