OK lets lay this out nice and neatly hehe.
Q&A Session:
Q1) I see that this mod is currently for TAD. Do you have any major plans in the future to make versions for AOE3 and TWC on their own? - felda1337
Yes I will! It should not be too hard at all to do this, its usually just a job of copying code over from one place to another but...this issue is more complex. AOEIII uses different code "prefixes" than both the expansions so this will require a clean up of the code and quite a bit of tweaking to get all of the features to work at their best :)
Q2) Do you plan to feature something where you can let troops enter the fort walls and start firing from them as like an up front defence? -Gen Kenobi
At this time...no I'm afraid. I've don't some experimentation with it and it could work, but its not that fact of functionality that bothers me, it's the issues around balance. Natives have a hard enough time trying to take out a European or Asian race as it is, and sticking loads of troops in the frontal walls will make it ever harder. But I will look for some kind of compromise in the future, we'll see.
Q3) Will this work mod online over ESO or LAN? - Many people
Like with all mods, ESO then no. But LAN YES :D! All you have to do is make sure that BOTH YOU AND YOUR OPPONENT(S) have this mod installed, and you should be able to play it fine :).
Q4) You mention the issue of the walls appearing backwards if you don't build them the right way, will this ever be fixed? - Some people.
In the short term no. We still can't seem to figure out WTF is going on with this issue. I thought at one point it was a simple code swap in the .XML files from the current wall data to add to this but...its doesn't work like that. Besides with a bit of practice, you can get used to building them the other way with no issues.
Q5) I here rumours about your adding a whole bunch of new units and techs and things like that as well as buildings, care to give us a sneak peak? - Everyone
This is correct! But I'm not saying anything here, look below the Q&A :P.
Q6) How are you handling balance? You keep saying its one of your primary concerns but what is it your actually doing? - Brixton_A1
Short answer? A lot. Long answer? Not that much at all really. Confused yet? Good :P.
Basically, this criterion goes into determining balance of my mod:
-Power of the tech
-Costs
-Caps
-Means of obtainment
-Number of uses
-By providing slight disadvantages too.
A lot is going on, so fear not. Everything should work out to your liking.
Q7) Release date for full version? - Most people
Your gonna hate me for this but...basically "When it's done" :P.
---
OK then enough Q&A for now. On to the meat of the news!

Whats in RC3 as of this moment

-Features the 3 new "MegaTex"
-A couple of new cards for races
-New buildings
-1 new unit for Asian/Natives/Euro's (Test units really, but they work fully)
-Brand new revised Icons for all the techs/upgrades etc
-A collection of MUST HAVE maps from the community

What I'm currently working on

I'm currently working on a lot of things really. The biggest thing happens to be the cannonball projectiles for the "upgraded" outposts and super units so to speak. Each race will feature one or two areas of specialty depending on their background etc. Working on adding multiple resistances (If possible, like ranged + siege for example) and revising a couple of stats for the bigger badder units. Figuring out how to "scale" units to make them bigger :D.
And a few secret things too...
Screenshots of new icons
These are the current Icons that will be in RC3: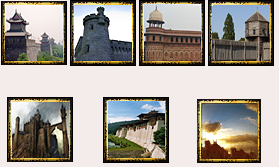 From left to right (top & bottom)
Asian Fortified Walls > Fortified Walls > Indian Fortified Walls > Native Fortified Walls
Supreme Fortifications > Eastern Mass Defences > Blessings of our Ancestors
(Indian walls are same as Asian walls as far as specs go, I just thought having oriental looking fort walls for the Indians looked odd.)
All 64x64 so they all look great as cards and techs in game :).
Future of the mod
Well as you all know, I hope to include as much custom content as possible without throwing the game off balance. I've wanted to try all of these things ages ago but never knew how, now luckily I can...but of course it takes time. I wanted to share with you all, my passion for this AWESOME game by allowing my self and you to try some new cool things you haven't seen before, to add some cool news features and technologies. And to really push the engine to its max!
I also forgot to mention that, I'm trying to figure out a way to get more "debris" to break of structures when they are damaged, and to make it hand around a little longer. Because I think a lot of buildings need to look a lot more "roughed up" before they completely collapse.
Oh and I wasn't going to do this...but why not. I'll let you in on a little secret I'm planning for the final release...a super weapon of some kind! *cough* AOM Meteor *cough*. Huh? No I didn't anything :S...lol.
Well that's your lot for now, hope you enjoyed the read. Thank you for your questions and support, and please keep them coming! The more feedback the better :)