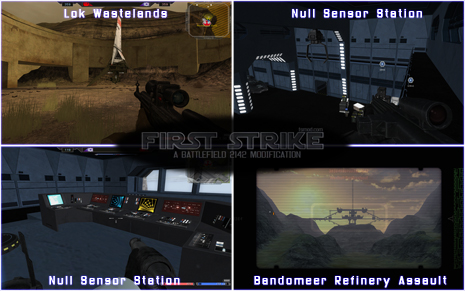 Here it is, the time you've all been waiting for, First Strike v1.4 is here! Well, for servers. Client files will be released at 17:00GMT 22/12/2008 in an incremental update via the First Strike Launcher (now required) and in a full installer at approximately 19:00GMT.
If you want to be prepared for when we go live with the incremental, you can download the following zip to your Battlefield 2142/mods/ folder, this is the bulk of the incremental patch that the launcher will utilize to update you. (Don't try to unpack it manually unless you want to break your install, you've been warned):
WolfServers and Shattered Planet (West Coast USA) [339 MB]
WolfServers and Shattered Planet (East Coast USA) [339 MB]
Servers, we have implemented an automated update system for both Linux and Windows boxes. Install these server files over your 1.3 install and your server will be automatically updated to 1.4 when we mark it live, and to every future version of First Strike (if your server is populated at the time, an alert will be broadcast and it will wait for the server to empty). Here are the files you'll need:
Windows Server Updater:
Woodat.com [8.17 MB]
Linux Server Updater:
Woodat.com [18.7 KB]
I look forward to seeing you all on the battlefield tomorrow!
First Strike v1.4 Changelog:
Weapons:
- Iron Sights properly do not have cross hairs
- Many new models and animations
- Some enhanced textures
Vehicles:
- TK between starfighters should be reduced/eliminated allowing for FF to be toggled back on if so desired.
- T-16 Skyhopper added.
- Snow Speeder damage reduced
- Atmospheric X-Wing and TIE Interceptor Added
Maps:
- Three new locations: Bandomeer Refinery Assault, Lok Wastelands, and Null Sensor Station
- Tweaks to existing locations: Ryloth, Yavin, Rhen Var, Endor, Mos Entha, Mos Espa, and Bestine
Visual:
- Many enhanced textures
- Lightmapped interiors for several locations
- Several new models for existing assets
- Custom shader support