Over the past weeks, the team has been hard at work modifying the weapons, the level geometry, and tweaking encounters. The second level of the campaign is coming together and is almost complete. For this update we have a bunch of images that will be followed by a Q&A taken from the halo community.
The pictures folow here: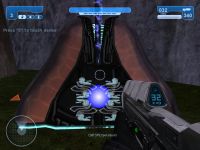 Q. Whats the machine do? Is it an objective?
A. That machine is a covenant transmitter and has a significant importance in the objectives that take place in the new parts of the second level.
Q. Whatever happened to the visor outline you had going?
A. Just didn't fit in with the HUD.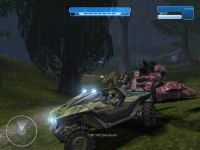 Q. Are all the vehicles destructible?
A. All of the vehicles can be destroyed with the fire power that is provided.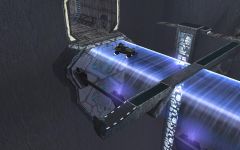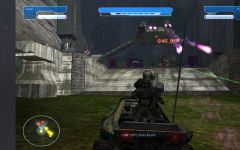 Q. Is that a carbine contrail?
A. Yes, that is a contrail of our new weapon, the carbine.
Q. Well I see a whole bunch of yellow blips on the radar so I'm guessing you're not going without some decent firepower?
A. Yes, you won't be alone the entirer time.
Q. And they're all bunched together so..,does this mean we actually have intelligent AI drivers that can kill covenant instead of getting in the way?
A. There are no intelligent drivers. The yellow dots are just a group of marines that are fighting for survival.
Q. Have you beefed up the fuel rod at all to make the hunters more of a threat? Do they all still collapse ingloriously after 1 pistol shot to the back?
A. The hunters, you can say we beefed them up, because they won't die from a miserable pistol shot which gives them a chance of shooting you more with the fuel rod.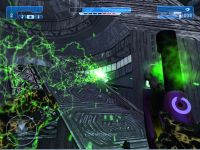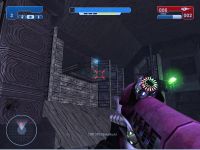 Q. Do you guys have a percentage of how done a30/entire mod is?
A. The level geometry is all there for a30. All that is left is perfecting each encounter. Things are always changing so we can't exactly give a percentage.
There are also some images not shown here that can be found in our images section.