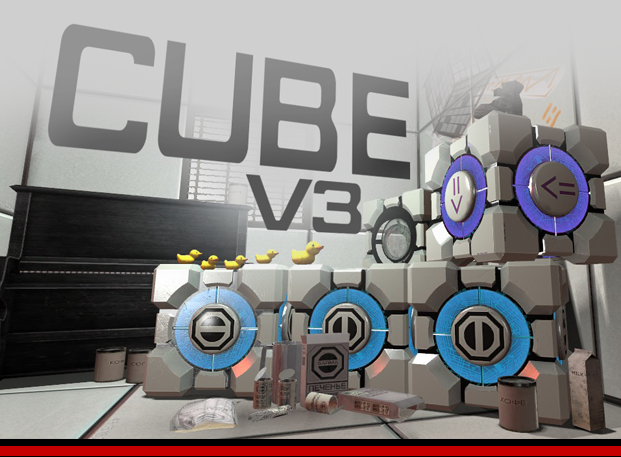 RU
Пока что прогресс разработки CUBE V3 ещё далёк от той заветной планки готовности, которую все ждут, но вместо того чтобы писать об очередных сложностях в разработке модификации, мы лучше опубликуем что-нибудь из своих маленьких успехов в общей работе.

Итак, в процессе разработки третьей версии кубичной модификации, в ней появятся собственные композиции. Как все помнят, на данный момент саундтрэк мода CUBE состоит из музыкальных работ стороннего происхождения. Это был самый первый мод студии AASC, и по банальной причине отсутствия собственного композитора в модификации не было задействовано ни одной собственной музыкальной композиции, на протяжении разработки целых двух версий.

Но, как уже упоминалось ранее, с выходом V3 в моде появится первый, собственный саундтрэк. Что касается старых композиций, задействованных в своё время в моде, то, возможно, они никуда не исчезнут по причине того, что без них уже трудно представить тот CUBE мод, который когда-то впервые увидели игроки. Все они по прежнему останутся в прежнем сборе на своих местах.

Также стоит отметить тот факт, что новые композиции по своему устройству достаточно примитивны, и потому в моде они скорее будут выполнять функцию заднего амбиента и появятся скорее в новых дополнительных главах модификации.

Ну, а автором новых ambient-композиций, является Константин Хантер – один из старых фанатов нашей модификации, который по собственной инициативе написал эти композиции и предложил их использовать в разработке CUBE V3. Что ж, скажем спасибо и пожмём руку таким бескорыстным фанатам как HUNT3Я, готовых помогать делом, а не словом.
EN

At the moment development of CUBE V3 is far from that precious finishing line, which everyone waits for. But instead of describing difficulties in work on the modification, we'll better publish a news about some of our small successes.
So, the third version of the Cubic Story will have own musical compositions. As you may remember, soundtrack of the previous versions consisted only of "third party" music due to simple and obvious reason: it was the first project of AASC, and the studio didn't have a composer at that time.
However, as mentioned above, third version of the CUBE mod will be the first (pardon this pun) to have its own soundtrack. As for the compositions that were used before, they will probably remain in the project because it would be hard to imagine the project without them. So, you will be able to hear them once again as in the first release of CUBE.
We should note the fact that the new compositions are rather simple and will likely be used as ambient noise in additional chapters of the modification.
The author of new ambient compositions is Konstantin Hunter – one of the old CUBE fans, who had written this music on his own initiative and then offered to use them in V3. We're really grateful to such unselfish fans as HUNT3Я, who will act but not speak.