Yo!
sooooooo..
Flood...ahem..
Ive been kinda busy with life and work and stuff and stuff + being lazy..
But i though i would post some progress i've made with Flood:'
Now, i wanna make the gameplay around flood, since well they are a formidable enemies, it wasn't actually my plan at the start since this engine limits some stuff with flood, like destroying em, limb destroying and so on.
Now why is it impossible to have a flood like in Halo games?
Well, for starters its impossible to either make a character of this kind in engine what have destructible body parts since well...this engine kinda is old.
I though about other way, that i would to multiple characters and if the character has taken certain amount of damage it will switch, but it brings up some problems aswell, like if the character spawns it will be in T position for a second and its unable merge with the original movement at the spawning point.
About the flood:
:::::::THE LORE OF FLOOD:::::::::
This flood isn't the one like in Halo games (i'm not talking about the gameplay and destroying perspective) this is about the lore, this flood is a bit different, namely it doesn't spread with only infectors but with through air aswell. How did it became like this?
One of the covenant cults made some research about them on how to control them and an accident happened, making a whole living planet a flood invested world, ofcoure luckily there only was some ships on the planet but they were glassed.
But it isn't over, the flood is building a mechanics so they can launch themselves onto another planets and the rest...i wont tell...
Actually, i have no idea what will happen, since i'm super bad at story writing.
I have some ideas about the flood aswell, i really want to make it infecting, like if a character is killed while the flood spores are in the air the character will turn into flood or if the Infector will reach the dead character.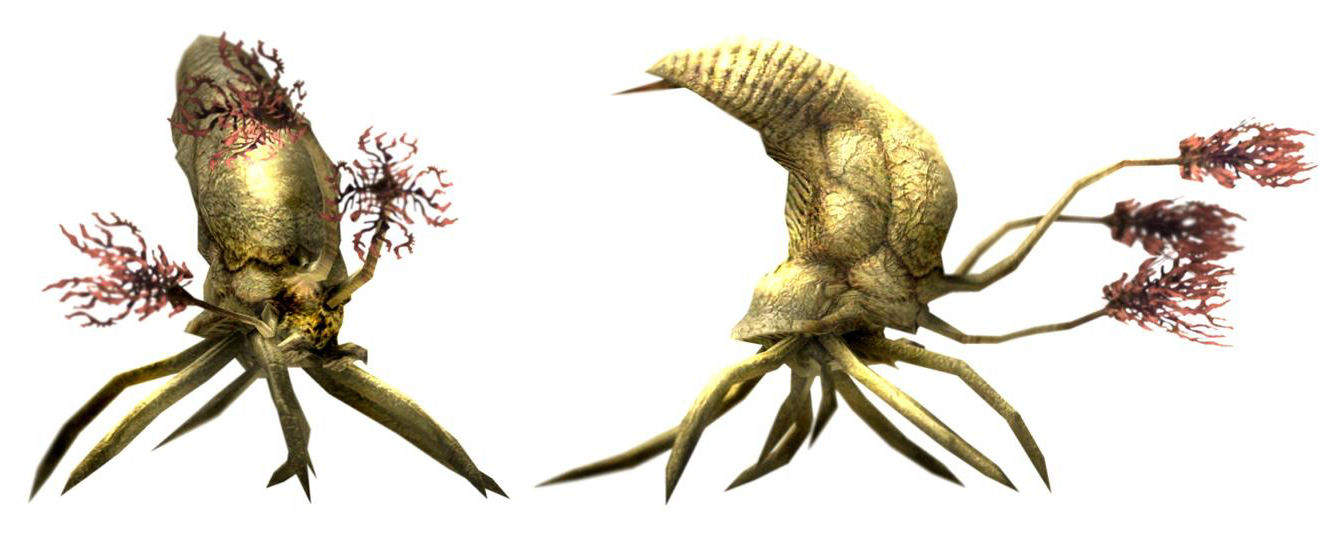 infectros or *Flood infector form* are these.
I have on animated...kinda, the multiply legs what is a pain to animate and as always, i will have problems once it is in the game.
for instance, if you shoot them they wont blow up...i think its codable...but i don't wanna get on the nerves of pvcf with it...
also the Flood infector carriers or *Carrier Form* i wont include them in the mod, because of the engine, in Halo games, once the Carrier Form is close to player it will go down and blow up releasing 5-10 infectors.
What forms will be here?
Feel free to click so you could read about em in wiki.
also, they will not have the same behaviors like in Halo games or animations since i need to animate them from ground up, and i will have some having FarCry mutant animations.
and since this engine isnt Halo one i cant make them climb walls and stuff..
Now i dont know if i include Elite and Brute forms, but imma see..
There might be more, if i get some time to think what would be needed, and i will remodel some original mutant models to make new forms.
Carrier Form:
Phantom and Pelican are flood infested so the flood could move around easily, but these forms will only be seen in Flood infested planets since it takes time to infest these dropships.
Human/elite/Brute combat forms have 2 -3 different forms, 1 is pure melee, 2nd is weapon form, 3rd is well...no hands, so just gets on your nerves.
Tank Forms a bit different than the original Halo 3 ones, they now move in 2 legs are fast and hit hard.
Ranged Form will not stay at one place, they will move and shoot the player.
Stalker form is fast and very agile, like a jumping spider.
Infection form will attack the player not blow up once it is near the player.
Note taken is that the pure forms will NOT transform like they did in Halo 3, if someone is wondering what i mean is that in Halo 3 the pure forms were able to transform into other pure forms, it was because if player was melee the Tank Form would transform into ranged or stalker to better counter the player and so on..
Long story short, there will be some BIG work to be done.
Also, since i cant uplaod videos via youtube: