Update - April 28th
I'd like to start off by apologizing for my recent stretch of absence. I've been sick with some sort of cough, then I had a Birthday (April 25th), then I had midterm. Quite a bit of stuff has happened since I left, like...
New Animations
'CCP' Six has been working on creating some custom animations for the mod, and due to some recent scripting breakthroughs we've been able to add assassinations into the mod. While still in its extremely early development, Six has already devised a system from 1st to 3rd to 1st person camera moves, and has been able to flush out a rough concept.
Six wrote: The scripting-part of that assassinationstuff is nearly done. You go to an enemy and when the distance is small enough you can press a key and the assassination starts; then you see the enemy and yourself (similar to spectatormode in mp) and you kill him in slow motion. I'll make some assassination-animations later.
We're hoping that adding assassinations will help increase the tactical aspect the mod, though its really a fun-feature more than a let's make this sneaky sort of thing. Please keep in mind that it's still in its early stages, and many changes will be made from what you just saw. For starters, we're updating the 3rd person model/texture, and removing slomo from the assassination sequence.
Six has also been working on the start of a new level, as you can see below. The animation sequence still needs to be refined (notably the superman jump at the end).
Death Troopers
Michonicle has been working on some new zombie-survival maps.
You'll find yourself fighting various assorted undead clones in these maps. Make sure you pack your trusty WESTAR M-5 and a couple of barrels worth of ammo. And speaking of undead clones, here's a sneak peak at one of the Death Troopers.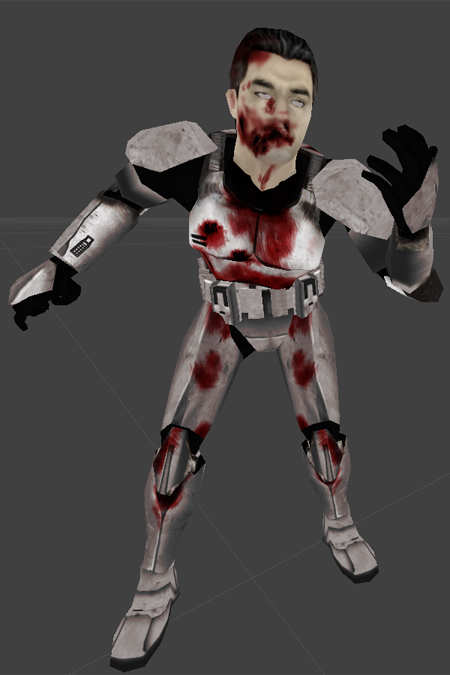 3.1 Patch Status
The 3.1 Beta Patch is almost finished; it addresses several of the bugs encountered in the 3.0 Beta.
Fixes:
WESTAR Melee now does substantially more damage
Eliminated bug that caused the game to crash upon incapacitation
Razor's WESTAR is now held in the proper position
Changes:
Added new HD Helmet Texture
Razor now uses the updated HD Texture
Pilot, Security, and Commander skins have been added to Battle Droids
Battle Droid skin reworked
That's it for this week. I'll be looking forward to showing you new animations and textures soon.
-Ulmont