source: U.S. Spends Another $10 Mil to Register New Immigrant Voters
mirror- Truthandaction.org
Undercover Footage Shows Clinton Operatives Admit To Inciting "Anarchy" At Trump Rallies - Zerohedge.com


There have been numerous test runs where people have stopped just short of actually voting. Nobody truly knows how many people are voting two or more times. There is no real check on it. I could go into almost any non vote by mail state, pick a name, say I was that person, and vote. Nobody would be the wiser unless the particular person showed up or was known by the poll volunteers. Also do not tell me that a few votes do not matter. Anybody remember Bush V Gore and How Ron Paul Was Cheated?, oh and that Nixon Was Robbed? in [1960]. There have been any number of these types of elections across the country. Yet voter fraud is laughed off by a Supreme Court judge and Obama funds the registering of immigrants and his team of lawyers push for striking down voter ID laws. Combined with the fact that the Diebold Machines determine 80% of votes. We all know "how reliable" they are. The constitution was designed to bring accountability to governance but each president has successively removed redundancy or checks and balances provided by the media, increased government powers and expanded presidential powers. The Patriot Act also revokes the 4th and 5th Amendment. The federal judge that said the Dakota voter registration law is "racist" obviously doesn't understand what racist means. For a law to be racist it must apply to all members of a race, not just to selectively impact some people of that race. That completely exposes the Democrat tactic of ignoring the constitution in favor of personal interpretation & feelings to anyone who still doesn't believe that US is being taken over ie 4 democrat federal justices soon to be 5/9 majority if Clinton wins.
note- What was suspicious is not Scalia's death but the lack of autopsy, we know CIA use covert ways of killing people.
The US also came close to passing the ENLIST Act which would allowed "undocumented immigrants" ie illegals or DREAMers to acquire legal permanent residence in exchange for military service. Then, because of existing law, once those DREAMERs were given LPR status, they could apply for citizenship on an expedited basis and would become citizens within months. Denham.house.gov (and attempts at trying to pass amnesty in the NDAA Act). The NDAA allows indefinite imprisonment of domestic citizens without a trial, charges or legal representation & Obama can declare martial law for any reason.
see also:

Illegal voters & ID laws:
Sanctuary Jurisdictions Protect Nearly 12,000 Criminal Illegal Immigrants in 19 Months
Illegal Voters Uncovered in Philly Are 'Tip of the Iceberg'
Dead People and Illegal Immigrants Are Being Registered to Vote All Over America
US judges strike down voter ID restrictions in three states
Hacking of Election Data Raises Concerns for States Without Voter ID

Virginia:
Pjmedia.com
Thepoliticalinsider.com
Breitbart.com

California:

Immigration vote spreads anxiety among Southern California residents living in U.S. illegally

North Dakota:

North Dakota becomes latest state to have voter ID 'burden' blocked
Federal Judge Blocks North Dakota Voter ID Law, Calling Voter Fraud "Virtually Non-Existent"

Immigrants or illegals overwhelming vote for the left:
The Biggest Lie of the New Century - Moddb.com

immigrant voting patterns:
Washingtonpost.com
Fec.gov
Hispanicvista.com
Pewhispanic.org
Cis.org

illegal immigrant voting patterns:
Mclaughlinonline.com
Sciencedirect.com
Dailysignal.com
Politico.com
illegal immigrants can swing an election:
Washingtonpost.com (Jesse Richman and David Earnest)
Ww2.odu.edu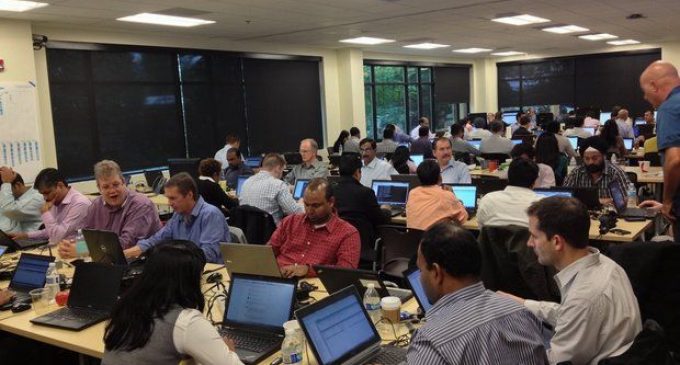 Months after the Obama administration spent $19 million to register new immigrant voters that will likely support Democrats in November, it's dedicating an additional $10 million in a final push as the presidential election approaches. The money is distributed by U.S. Citizenship and Immigration Services (USCIS), the Homeland Security agency that oversees lawful immigration, to organizations that help enhance pathways to naturalization by offering immigrants free citizenship instruction, English, U.S. history and civics courses. Officially, they're known as "citizenship integration grants."
Since 2009 USCIS has doled out $63 million in these grants to prepare more than 156,000 resident immigrants in dozens of states for U.S. citizenship, according to the agency's figures. Besides the free classes, Uncle Sam also offers immigrants free "naturalization legal services," the latest USCIS grant announcement states. "Recipient organizations serve both traditional immigrant destinations and new immigrant getaway cities in 21 states," the USCIS document reads. The latest $10 million investment will prepare approximately 25,000 residents from more than 50 countries, according to the agency. More than a dozen states—including California, New York, Florida, Washington and Ohio—with large resident immigrant populations are being targeted as well as cities with huge immigrant populations such as Miami, Los Angeles, Chicago, San Francisco and Washington D.C.
The Department of Homeland Security (DHS) has been aggressive in promoting its citizen integration grant program this year, offering large sums to recruit new groups that can offer immigrants the services they need to become citizens. Clearly, the ultimate goal is qualifying as many immigrants as possible to vote since they tend to cast ballots for Democrats. "We intend to award about $1 million to first-time recipients in the Citizenship and Integration Grant Program for fiscal year 2016," the agency's grant announcement states. "If you represent one of these organizations, or know of an interested organization, we strongly encourage that organization to consider applying. Additionally, another $9 million will fund programs that provide both citizenship instruction and instruction and naturalization application services." Some might consider this a cash giveaway.
This is part of a broader, government-wide initiative launched by the president to "strengthen federal immigrant and refugee integration infrastructure." The mission is to facilitate life in the U.S. for immigrants and refugees by enhancing pathways to naturalization, building welcoming communities and providing "mobile immigration services in underserved communities." To carry out this important mission Obama created a special Task Force on New Americans chaired by his Domestic Policy Director, Cecilia Muñoz, the former vice president of the powerful open borders group National Council of La Raza (NCLR). Millions of taxpayer dollars have funded the task force's various enterprises, including multilingual media campaigns promoting immigrant rights. The goal is to "strengthen civic, economic and linguistic integration and to build strong and welcoming communities," according to a report issued by the task force. In the end communities will be strengthened by welcoming all residents, the administration assures.
Practically every federal agency is participating in the effort by contributing resources and creating programs to help immigrants. For example the Department of Labor (DOL) is implementing "new workforce programs" for the "new Americans" and the Department of Education is promoting "funding opportunities" to assure that the immigrants "are provided the tools they need to succeed." The Department of Health and Human Services (HHS) is collaborating with other agencies to release a career and credentialing toolkit on "immigrant-focused career-pathways programs." The Department of Justice (DOJ) and USCIS are making sure the new Americans have worker rights and protections and the Department of Housing and Urban Development (HUD) is launching a two-year pilot to assure that non English speakers have "meaningful access to housing programs" subsidized by American taxpayers.